Abstract: Well equipped with SATA/IDE RAID, 10/100 LAN, IEEE 1394, USB 2.0, 6-channel audio, TV-out and of course nVIDIA's integrated video.
84% Rating:
Home > Reviews > Motherboards > MSI K7N2G-ILSR
Close up with the K7N2G-ILSR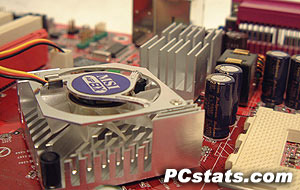 In typical MSI fashion, the K7N2G-ILSR uses a bright red PCB which should appeal to the case modders out there. The K7N2G-ILSR is a standard sized ATX board (30cm x 23cm), though a little slimmer than a P4 equivalent so there shouldn't be any problems installing this motherboard into smaller cases.
Since MOSFETs generate quite a bit of heat it's nice to see that passive heatsinks have been applied to aide cooling. Little things like this show how dedicated a company is to quality. There are only two fan headers on this board, and one of those is used by the northbridge fan which is kind of frustrating.
Headers and connectors though are all well labeled so you loose the manual in time all is not lost. Unlike most of the nForce2 SPP based motherboards we have tested, an active heatsink has been installed. MSI's cooling solution is a custom heatsink which also blows air in the direction of the MOSFET's - a good sign since the nForce2-IGP Northbridge can get quite toasty after a few hours workout.
In addition to the standard 20-pin ATX power connecter used to power all ATX motherboards on the planet, this AMD motherboard also has the aptly named 12V auxiliary "P4" power connector. The two power connectors are positioned just left of the CPU socket so the cables will have to run in front of the CPU fan which could disrupt airflow to the processor if they are left to hang to close. It would be a good idea to use a fan with a grill for this particular motherboard to ensure that those power cables never have a chance of getting caught up in the fan impeller blades incidently.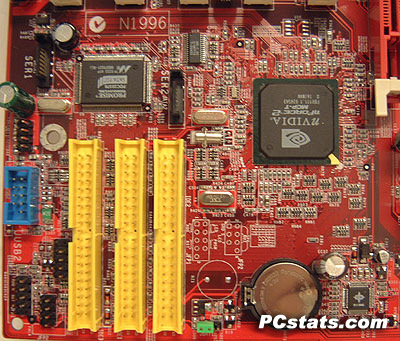 The lower right hand corner of the motherboard is quite busy, but that's expected with board of this size. In that corner are three IDE headers, two Serial ATA headers and an assortment of USB, bluetooth, and front panel connectors. Full length PCI cards should be useable without interference with all these cables in slot one and two. Up next, heatsink clearance measurements, and some words on a little thing I like to call overclocking...
SEARCH PCSTATS

---

Use the power of Google to search all of PCSTATS and the PCSTATS Forums. Tell us what you think of this new feature - FEEDBACK?