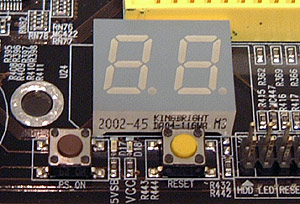 There are a total of five fan headers, and although I doubt most users will be able to use them all, it's nice to have so many. I'm a huge fan of the Port 80 diagnostics card and was happy to have one on this motherboard too. This is extremely useful for tweakers, overclockers and the "techies" out there who have to trouble shoot the motherboard/computer should something go wrong.
Another awesome feature of the IT7 MAX2 Rev2 is the built in power and reset buttons!
People who like to test motherboards or other hardware without a case certainly will appreciate this. The motherboard is also very well labelled, if you don't know what a certain header or jumper does just look around on the PCB and you're sure to get an explanation.
The general layout of the IT7 MAX2 Rev2 is very good, there's plenty of space to install memory even if you're using a longer videocard like a GeForce4 Ti4600. Hidden away in the driver CD is a copy of Norton AV 2002, a very useful tool for those who want to steer clear virus trouble as well
Even though Serial ATA based HDD's are still somewhat difficult to get a hold of, Abit has included an IDE to Serial ATA adapter for those who want to take advantage of the onboard Serial ATA ports with their current IDE hard drive (only one such adaptor is included).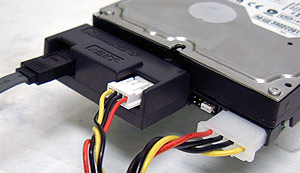 While the IT7 MAX2 Rev2 is easily packs in the features, I'm a bit disappointed that it still relies upon the AC'97 audio codec. If I had the choice of buying this board or the exact same model with the C-Media 8738 audio controller I would chose the latter.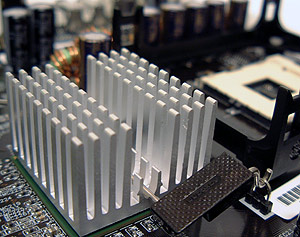 AT stock speeds the i845PE is a cooling running chipset. When overclocked to high FSB's the i845PE can generate quite a bit of heat so it is important to maintain a good case temperature - especially with a large passive heatsink such as this. An actively cooled heatsink would have been nice, but probably overkill for the most part. Up next, overclocking...