Abit has been known to produce good overclocking and highly tweakable motherboards. The NF7-M follows this tradition with a well equipped BIOS.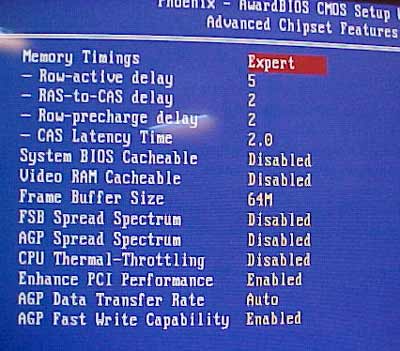 Inside the Advanced Chipset Features we have all the usual memory tweaks we would expect from a performance motherboard. We can also adjust the on board GeForce4 MX's frame buffer from 8MB to 128MB in size.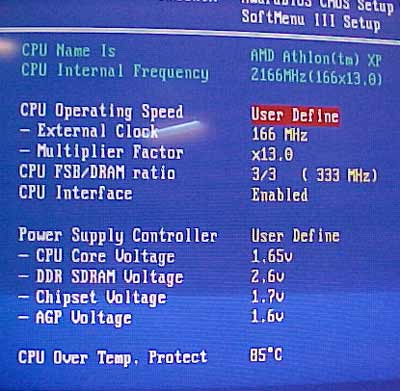 Ahh Soft Menu III!. The bond between all great overclocking Abit motherboards. In the BIOS we can change the FSB from 100-250 MHz pretty much in 1 MHz increments (there are a few 2 MHz jumps). The NF7-M gives you access to all multipliers so no L3 trick is needed for the higher speed T-Bred/Barton processors.
There are a whole slew of memory dividers, but as everyone knows the nForce2 chipset runs best when the memory is operating in sync with the FSB. CPU voltage can be raised to 2.3V so hardcore overclockers do not need to voltage mod this motherboard. Anyone going near Vcores of 2.3V better have damn good cooling or risk blowing their AthlonXP!!
DDR voltage only increases to 2.9V which is a bit disappointing considering the CPU voltage goes so high. Chipset voltage can be raised to 1.7V, and AGP to 1.8V.
Up next we explore the fantastic world of the ABit NF7-M manual - page by page.... on second thought let's just cut to the benchmarks!!