It's quite easy to see why Abit's NF7 series of motherboards are so popular. The boards perform very well, and have a whole load of overclocking options that the tweakers out their can truly appreciate. The NF7-M is a bit on the pricey side at $195 CDN ($130 US), but when a manufacturer only uses higher quality components like the all Rubycon capacitors that's to be expected.
I think the general consensus was that most people were surprised by how well the nForce2 performed when it was originally released. Even now six months later, newer chipsets like VIA's just released KT400A still reportedly cannot out perform it. To top things off, nForce2 has not suffered from any major compatibility problems unlike some rival chipsets.
As you have seen by the benchmarks we ran, just like nVIDIA GPU based videocards, nVIDIA Northbridge based motherboards perform pretty much the same when they're tested side-by-side clock for clock. The NF7-M was a pretty good overclocker, and this particular sample was able to hit 200 MHz FSB with no problems.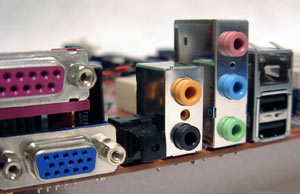 I was happy that Abit did all the little things right, the motherboard is very well labelled, and there was even thermal compound between the northbridge heatsink and nForce2 IGP.

There are a few things about the NF7-M I would change though. It would have been nice for Abit to position the IDE connectors in a different spot, being situated right next to the DIMM slots means longer videocards may interfere with the IDE cables. With a lot of manufacturers cooling the MCP southbridge, I would have liked to see Abit include a passive heatsink on the NF7-M as well since it can get quite warm.

If you're looking for a fast nForce2 motherboard with integrated video and good set of overclocking options the Abit NF7-M will certainly keep you happy. The feature set of the Abit NF7-M could have been a little longer to put it on a better footing against boards like that of MSI's K7N2G-ILSR, but then we'd be paying a little more too.

Find out about this and many other reviews by joining the Weekly PCstats.com Newsletter today!

Related Articles:

Here are a few other articles that you might enjoy as well...

1. Epox EP-8RGA+ nForce2-IGP Motherboard Review


2. MSI K7N2G-ILSR nForce2 Motherboard Review
3.