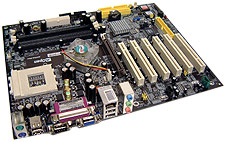 If you're looking for a run of the mill nForce2 based motherboard with a lot of integrated features, the AOpen AK79G MAX will not disappoint. Retailing for about $140USD the board packs a lot in thanks to the nVidia nForce2-GT chipsets, but doesn't quite manage to snag the highest performance peak in terms of overclocking.
With 10/100 LAN, 5.1 audio care of nVidia's APU, Serial ATA, IEEE 1394, USB 2.0, dual BIOS's and integrated video, there isn't much more you can ask for. If you do need to expand the Aopen AK79G MAX with its five PCI slots you have plenty of space. We happy to see AOpen bundles Norton Anti Virus 2003 with the AK79G MAX, with so many virus's out there you can never be too safe.
Because the AK79G MAX is based on a nForce2 chipset, good performance is a given. The AK79G MAX tends to lag behind just a tad when compared to other nForce2 based boards but the difference is very small and I doubt one would notice it.
The AOpen AK79G MAX has the potential to be a good overclocker but AOpen must give the end user multiplier control first. If they don't, overclocking will be very difficult.
There were a few things about the motherboard I did not like, I wish AOpen would include a sixth PCI slot on the bottom of the motherboard instead of an ACR. Consumer level ACR based devices are virtually impossible to find. With the CMOS battery standing up vertically, it's very fragile and could break off easily (it's only held on by three solder points). AOpen's Silent HW options are neat, but I was in for quite a shock when I found my CPU fan only running at 70% of its rated speed when the computer POSTs or is in the BIOS.
This is one of the first nForce2-GT boards to come across the test bench, and the possibilities all these built-in audio and video options bring to the table really make the computer more of an entertainment device then ever before. Paired with a processor like the AMD AthlonXP 3000+ the Aopen AK79G Max offers good performance levels, but doesn't manage to reign in the top spot. I would consider using the AOpen AK79G MAX because of its excellent stability and features, but, with an eye towards high-end enthusiast gaming I might consider using a board more on the wild side.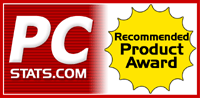 Find out about this and many other reviews by joining the Weekly PCstats.com Newsletter today!
Related Articles:
Here are a few other articles that you might enjoy as well...