The general layout of the FIC AU13 is excellent. The main ATX and floppy/IDE connectors are in the most ideal location to the right of the DIMM slots and there is nothing that will negate the use of longer or full length PCI cards. You have to remove the videocard to install memory, but that's a price you'll have to pay when you're using a motherboard with six PCI slots.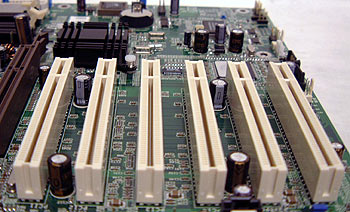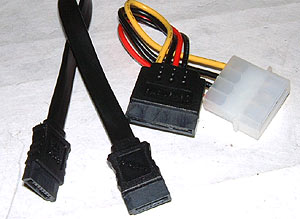 Because Serial ATA hard drives require a different type of power connection, we were extremely pleased FIC went out of their way to include a molex-to-15 pin Serial ATA power connector. This is especially useful if you consider OEM Serial ATA HDD's do not come with this power adapter. We can only hope that powersupplies will start to ship with the right type of power connectors soon.
The AU13 is well labelled like most motherboards on the market now, so if you're not sure what a certain header or jumper does just look around the PCB and you'll find the description. There's an outline for a Port 80 diagnostics card on the PCB, but no such device - I hope FIC eventually implement the port 80 card on future revisions.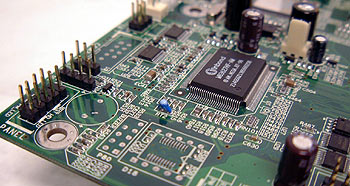 The AU13 uses nVIDIA's MCP-T which includes the SoundStorm APU (Audio Processing Unit) which supports 5.1 speakers and is 100% Dolby Digital compliant. The MCP-T southbridge works in tandem with the AC'97 codec to produce chrisp clear audio which rivals even the top of the line soundcards on the market in terms of audio quality. This is certainly good news for audiophiles, gamers and multimedia users alike. One of the best qualities of nVIDIA's APU audio is that it takes up very few CPU resources so you're overall computer experience will not suffer due to the soundcard hogging the processor.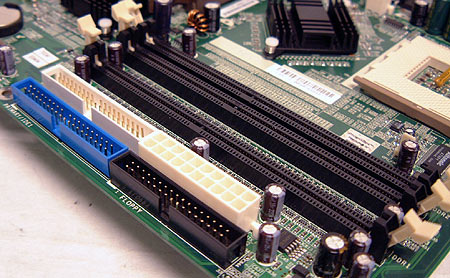 There isn't much to complain about with the AU13; my biggest issue being the passive heatsink on the Northbridge (it's big for the Southbridge but small for the Northbridge). On top of that, FIC decided to use a thermal pad instead of thermal paste.
My next issue with the AU13 is the absence of the four mounting holes around the CPU socket. I understand that they're no longer required by AMD to receive certification but since most of the other manufacturers are able to include them, I don't see why FIC couldn't as well. Of course I'm not an EE (yet) so I'm sure FIC have removed them for a good reason.