FIC did a fair job at clearing out the CPU socket area of obstructions, it's a shame the mounting holes are gone though.
PCStats Heatsink Clearance Measurements
Top Clearance:
15 mm
Bottom (cam) Clearance:
7 mm
Left Side (arm) Clearance:
18 mm
Right Side Clearance
16 mm
Socket Mounting Holes:
N/A
Max. Heatsink Base Dimensions:
~86x76 mm

Note: Approx. measurements are made from the edge of the socket (not the clips) to the closest obstacle taller than the ZIF socket itself.

The socket is 51mm across, and 62mm from top to bottom.
Installation of heatsinks about the size of the Vantec AeroFlow is possible, but if you intend to use something larger like the Thermalright SLK-800 you may have problems (bending capacitors is probably required).
Overclocking:
Because our nifty modded Socket A CPU cooler did not fit on the AU13's mounting holes (it was made specifically for another board) we did not have high hopes in terms of overclocking. The first thing I did was remove the Northbridge heatsink and replace the thermal pad with some regular white silicon paste, which should help things just a bit.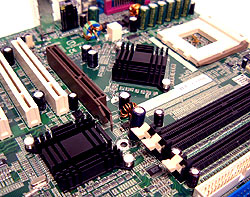 We started to raise the FSB slowly, only 2-3 MHz at a time but unfortunately our overclocking adventure maxed out at a rather unimpressive 173 MHz FSB. No matter what we did, we could not get the system stable past that mark. I'm pretty sure that it was the Northbridge that was holding me back here, perhaps if it had better cooling we could have gotten the AU13 higher.