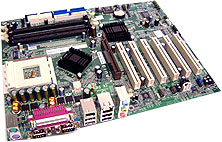 If you're in the market for a nForce2 motherboard the FIC AU13 is definitely for you. With a retail price of $135 CDN ($90 US) the AU13 has more features and is less expensive the even the FIC AU11! The FIC AU13 didn't prove to be much of an overclockers motherboard, so if that's your game perhaps you'd be best to look elsewhere.
In terms of performance the AU13 did very well for itself, it kept up with Epox's 8RDA+ easily in terms of stock performance. As you saw overclocking was quite difficult however. Perhaps if FIC were to use a larger passive/active heatsink with some thermal paste, the motherboard could have reached a higher FSB.
There were still a few things I disliked about the motherboard. My biggest issue with the AU13 is the small Northbridge heatsink. I wish FIC would have gone with a larger passive/active cooler and use some thermal paste between instead of the thermal pad. While I understand AMD does not require the four mounting holes around the CPU socket anymore, it would have been nice for FIC to include them anyway since many of the other manufacturers already do.
FIC has packed quite a bit into this motherboard, there's 10/100 LAN, nVidia APU 5.1 audio, USB 2.0, IEEE 1394, and Serial ATA. If you find yourself needing more, expanding the AU13 is a breeze with its six PCI slots. The layout of the AU13 is great, there are no capacitors, headers or anything else that will get in the way with longer/full length PCI devices. It was nice to see that big black heatsink on the southbridge, that chip is not going to overheat.
If you're priorities are a motherboard that's relatively quick, extremely stable and has a good set of features for a good price, you'll like the what the FIC AU13 has to offer.
Find out about this and many other reviews by joining the Weekly PCstats.com Newsletter today!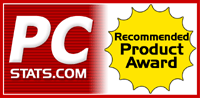 Related Articles

Here are a few other articles that you might enjoy as well...

2.