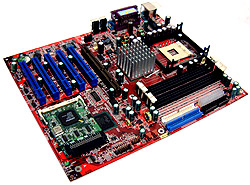 Unlike MSI's GNB MAX-FISR which was more of a cross between a workstation/high end desktop motherboard, the E7205 Master-L is clearly workstation class. With a retail price of around $230 USD (and that's without the Mini PC SCSI expansion card) it's clear that home PC users will not be buying this board to balance the checkbook and 'do email'. Throw Maya, AutoCAD, higher end 3D modeling software into the equation and you'll find yourself a good platform with the MSI E7205 Master-L.
The performance of the E7205 Master-L speaks for itself, being based on the E7205 (Granite Bay) chipset it's clearly faster then both of the desktop chipsets we were comparing against it.
In terms of on board options, the sample we tested had an Intel Gigabit NIC, a 50W 8X AGP slot, 5.1 audio and of course the MiniPCI socket. We used an optional extra in the MiniPCI socket (Adaptec Ultra160 SCSI controller) and the results were good bearing in mind they were not SCSI 160Ms. If that level of expansion is not enough for you, with five 32bit PCI slots you shouldn't have much trouble upgrading components with more 'standard' adaptor cards.
The E7205 Master-L is a well labelled board which should make it easy to expand in the future as manuals inevitably get lost. Since there is good likelyhood that predominantly longer PCI cards will be used on this workstation motherboard, it's worth noting that there are no obstructions to get in the way. We checked with 12" cards to be sure of that, with and without the MiniPCI SCSI adaptor installed.
If you're looking for a top of the line Granite Bay motherboard for workstation use, the MSI E7205 Master-L is certainly one that will not disappoint. Other then its elevated sticker price we didn't have any qualms with the board, and can easily recommend it anyone looking for a solid workstation platform.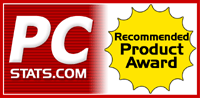 Related Articles:
Here are a few other articles that you might enjoy as well...