Meet the E7205 Granite Bay Chipset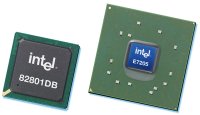 The i845 chipset brought the Pentium 4 to the average user, unfortunately none of those DDR chipsets (i845D and onward) could provide the Pentium4 with enough memory bandwidth as they were essentially re spun SDRAM chipsets.. To resolve this situation enter Granite Bay...
"Why does Granite Bay only support PC2100 DDR and not PC2700?!?" I get that question a lot from readers. The reason behind this is that Granite Bay runs it's memory in parallel, thus doubling the bandwidth available to the processor from 2.1 GB/s to 4.2 GB/s.
4.2GB/s is exactly the bandwidth requirements a Pentium 4 running on 533 MHz FSB needs. Giving the processor more bandwidth is a waste of resources and will not net you any real performance gains. For example, consider what RDRAM or DDR RAM does for a Pentium III or DDR333 for 266 MHz based Athlon's!
The E7205 Granite Bay chipset is also the first Intel chipset to support 8x AGP. This improvement allows for the use of professional 3D videocards like ATi's FireGL X1, nVIDIA's QuadroFX or the 3DLabs Wildcat4 7210. While 8x AGP technically doubles the bandwidth available to the videocard from 1.06 GB/s (4x AGP) to 2.1 GB/s, which means that twice as much information can reach the videocard at any given moment, it really hasn't been much benefit for 8x AGP videocards as of yet.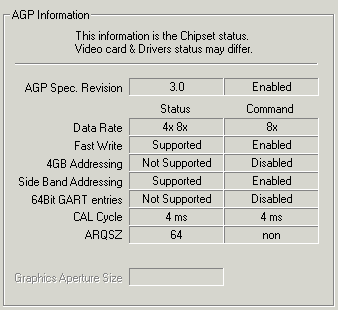 As you can see 8x AGP was working just fine with the ATi Radeon 9700 Pro
The E7205 Master-L BIOS:
Just because there are no overclocking options in the BIOS, it doesn't mean there MSI left out everything fun and exciting. There are still the usual memory tweaks we would expect, as well as some AGP options.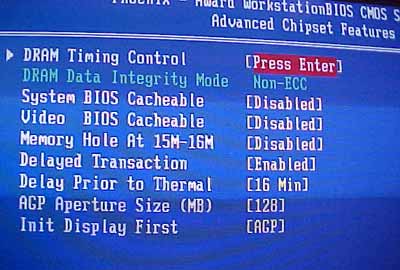 In the Advanced Chipset Features we have DRAM Timing Control option as well as the ability to set the AGP aperture Size.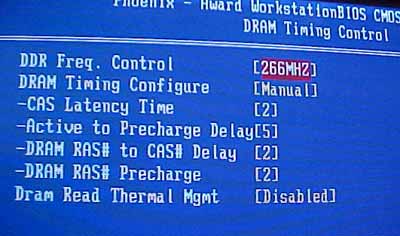 In the DRAM Timing Controls we can set the speed the memory runs at and we can also change the CAS Latency, DRAM RAS to CAS and RAS Precharge. I'm not really sure what 'DRAM REad Thermal MGMT' does, but I don't think it will work with the Corsair XMS3500 CAS2.
There are no overclocking options with the E7205 Master-L and to be honest why would we expect any on a workstation board? Workstation motherboards are meant to run with 100% stability after all. Up next, the benchmarks.