DVD Speed is a DVD-ROM benchmark which can test the most important features of a DVD-ROM drive. For this test we use a pressed DVD-ROM with about 7.8GB of data on it.

Pioneer DVD-500M - DVDSpeed Tests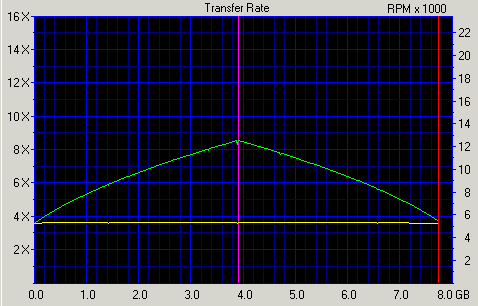 | | | | | | | |
| --- | --- | --- | --- | --- | --- | --- |
| Optical Drive | SM-352 | DVD-500M | DVD106 | SD616 | SDM1212 | SM-308 |
| Disk Type | DVD | DVD | DVD | DVD | DVD | DVD |
| Avg Speed: | 6.42x | 5.73x | 5.74x | 4.85x | 4.52x | 1.71x |
| Start Speed: | 3.57 | 3.25x | - | - | - | 1.76x |
| End Speed: | 3.71 | 3.76x | - | - | - | 1.74x |
| Type: | CAV | P-CAV | - | - | - | CLV |
| Random Seek Time: | 103ms | 90ms | 98ms | 81ms | 111ms | 103 |
| 1/3 Seek Time: | 114ms | 103ms | 111ms | 88ms | 116ms | 110 |
| Full Seek Time: | 178ms | 178ms | 187ms | 158ms | 187ms | 346 |
| CPU use: 1X | 1% | 3% | 16% | 20% | 21% | 58% |
| Disk Info: | 7.8GB | 7.8GB | - | - | - | 7.8 |
| Spin Up: | - | 3.3sec | - | - | - | 3.2 |
| Spin Down: | - | 2.1sec | - | - | - | 2.4 |
As a DVD drive the Samsung SM-352 does quite well. It's easily the fastest of all DVD drives we have tested which puts it in good standing. CPU usage sits at just 1% which is lower than any other drive tested.
Conclusions:
Samsung's SM-352 52x24x52x16 CD-RW/DVD combo drive does live up to its speed ratings as you can see from the tests and offers a lot of value in one small space. Retailing for about $240 CDN, the drive may be a bit pricy for some consumers on a tight budget however.
The Samsung SM-352 supports all the standard writing methods like DAO, TAO, SAO and packet writing and can be used with 650MB, 700MB and 800MB CD-R's. With an 8MB frame buffer and Buffer Under Run Free technology, you will not get a coaster unless you happen to crash your PC while burning. During testing the SM-352 was near silent even when running 52x in the CD-R tests, but like other Samsung CD-RW's we tested in the past, the SM-352 does get a bit warm after prolonged use.
DVD playback is where the drive excels, with an average speed of 6.42x, and access times comparable to the Pioneer DVD-500M, the Samsung SM352 DVD-Combo doesn't lack for its CDR-RW qualities. If you're out of 5 1/4" drive bays the Samsung SM-352 52x24x52x16x CD-RW/DVD combo drive is a good option, and should fit in quite nicely next time you want to hunker down and watch the Matrix on your PC!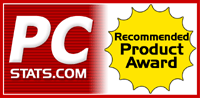 Related Articles:

Here are a few other articles that you might enjoy as well...

1. Samsung SW252B 52x24x52 CD-RW Review


2. Plextor PXW4012TA 40x12x40 CD-RW Burner Review
3. Kenwood 72X CD-ROM Review
4. MSI CR52-A2 52x24x52x CD-RW Review
5. Samsung SW240 40-12-40 CDRW Burner