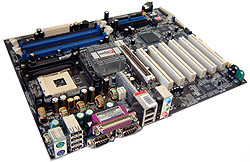 While we did encounter a few issues with the beta board we received for testing that kept us from including any overclocking results, this did not affect stability or performance of the system during stock tests. We're pretty sure this is isolated an issue as well so it is not going to bear in the final weighting of the results.
That said, overall we're pretty impressed with what the AOpen AX4SPE Max has to offer. The board has six onboard USB 2.0 ports (two on a riser), Gigabit LAN, 5.1 audio, IEEE 1394, four Serial ATA/Serial ATA RAID ports and dual BIOS's!
If you feel the need to expand the AOpen AX4SPE MAX has six PCI slots as well as an 8x AGP port.
As you've seen from the benchmarks, when teamed up with a Pentium 4 3.0C processor, performance of the AOpen AX4SPE MAX and its' Springdale chipset is very nice indeed. Most surprising was the performance increases in the office based benchmarks; SysMark2002 and the Winstone 2002 tests. Depending on the tests, and hardware used, the AOpen AX4SPE Max was between 5-15% faster then the Abit IT7 MAX2 Rev2 which was one of the fastest i845PE motherboards on the market!
It's pretty easy to see AOpen are thinking about the end user with this motherboard. All the ports are located near the edges of the PCB which allow for easier access. The motherboard is not quite as well labelled as some of the other AOpen motherboards we have tested in the past, but even novice users need not worry. The manual is extremely detailed and easy to use, and quick start guide is done in colour which can also be rather helpful.
With a retail price of $270 ($194 US) the AOpen AX4SPE is one of the more expensive i865PE motherboards on the market, but that's expected when you factor in all the integrated peripherals. Bottom line, AOpen's AX4SPE MAX is a very good feature loaded board for mainstream desktop PC's - paired with a 800FSB P4 it offers great value in light of the more expensive Canterwood option.
Find out about this and many other reviews by joining the Weekly PCstats.com Newsletter today!
Related Articles:
Here are a few other articles that you might enjoy as well...