The i865PE, CSA and ICH5R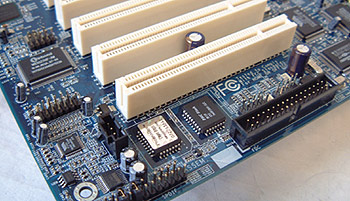 Probably the most obvious feature I dislike about the PX865PE Pro II is the location of the floppy drive connector. Located at the very bottom of the PCB means that users with full tower cases like the AOpen HX08 or Inwin Q500 will have a difficult time getting their floppy drive connected. It also means that you'll have to wrap the FDD cable around your other system devices which can create hot spots.
It would have been nice for Albatron to place all the headers near the edges of the motherboard as this makes things easier for the end user. With some of the headers where they are now, they could interfere with some PCI devices.
Perhaps I'm being a bit too picky here but something else I would have liked to see are more USB ports on the back panel. Yes there is an accompanying four port USB riser but personally two leaves me feeling a bit bare.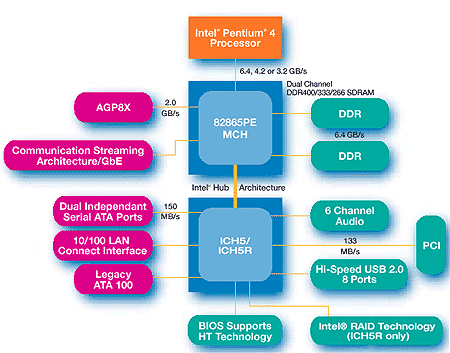 The i865PE Springdale: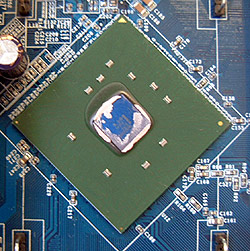 The i865PE is Intel's new mainstream chipset and it brings a whole slew of new features to the mainstream Pentium 4 users; most notable are 8x AGP, Dual Channel DDR and CSA. 8x AGP provides the videocard with up to 2.1 GB/s worth of bandwidth which doubles the amount of data that can be sent to the videocard. While real world performance has not gotten any significant performance gain due to 8x AGP, it has potential and may be important in the future when games rely more heavily on the AGP bus.
Looking back, the fatal flaw of the i845 DDR chipsets were, they could never provide enough memory bandwidth to keep the Pentium 4 processor happily fed because they only have a single DDR memory channel. Even the last i845 introduced could only provide a 400 MHz based Pentium 4 processor 2.1 GB/s of bandwidth and a 533 MHz based P4 2.7GB/s of bandwidth. A far cry from the 3.2 GB/s bandwidth required for the 400 MHz processors and 4.2 GB/s for the 533 MHz chips.
With the i865PE, there are now two memory channels that work in parallel thus doubling the bandwidth available to the processor. For instance a 533 MHz based Pentium 4 needs 4.2 GB/s of bandwidth to be happy, if you use run two PC2100 DIMM's in parallel they offer exactly 4.2 GB/s (memory channel 1 2.1 GB/s + memory channel 2 2.1 GB/s) of bandwidth when running at 133 MHz FSB. An 800 MHz based Pentium 4 needs 6.4 GB/s and running dual channel DDR 400 memory will provide that required 6.4 GB/s. The Pentium 4 is no longer bandwidth starved when running with the i865PE.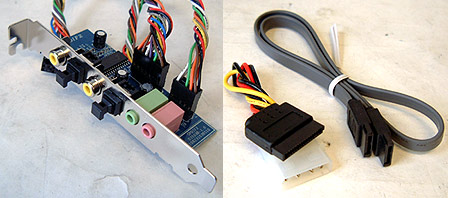 Communications Streaming Architecture:
Gigabit Ethernet is nothing new to the world of computers and while some of the motherboards we tested in the past had this option, one of the potential problems that may arise is when a Gigabit connection is running at full speed (full duplex, 2Gb/s or 250MB/s), it has the potential to saturate the PCI bus and leave little or nothing for the other devices. What a perfect place to introduce the new CSA bus!
CSA stands for Communications Streaming Architecture and what it does is give the Gigabit Ethernet controller a direct 16 bit link to the MCH (Memory Controller Hub). The maximum bandwidth available on the CSA is 266 MB/s, just a tad more then the maximum 250 MB/s (Full Duplex) can produce.
Intel being Intel, the company naturally has a patent over CSA technology and may license this out. It's up to chip manufacturers to see if they want to adopt and potentially pay the extra fee for a CSA NIC. The Albatron PX865PE Pro II does use an Intel 82547EI CSA Gigabit Network Adapter.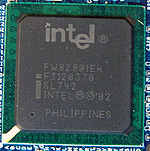 One of the most significant features Intel have implemented on the new ICH5 southbridge is native Serial ATA support. Now that two Serial ATA headers are integrated into the ICH5 southbridge yet another bottleneck is removed. The theoretical maximum bandwidth of Serial ATA currently is 150MB/s, and as you can see this is more than the 133MB/s the PCI bus offers (yes I know that current drives will not reach that speed).
If one were to run Gigabit LAN, Serial ATA HDD's and say... some other high bandwidth devices like an external IEEE 1394 HDD, the PCI bus could be saturated very quickly.
The ICH5 supports two Serial ATA channels as well as two parallel IDE channels for a total of six possible drives (one drive per SATA channel). The ICH5 also increases the number of USB2.0 ports from four to eight.
As you probably noticed, we said the AOpen AX4SPE Max uses the ICH5R southbridge, and the 'R' stands for RAID. Initially, the ICH5R only supported RAID 0 (stripping), but Intel is working on including RAID 1 as well and all that is required is for the end user to flash their motherboard with a newer BIOS. Normally if you want to make any changes to a RAID setup, it would require you to format and reinstall your software. Intel has made life a bit easier for the end user, if you get a second HDD of the same size and would like to take advantage of the RAID 0 setup, simply use the Intel Application Accelerator software to use RAID 0 on both your drives! Please keep in mind, this is for Serial ATA only.
SEARCH PCSTATS

---

Use the power of Google to search all of PCSTATS and the PCSTATS Forums. Tell us what you think of this new feature - FEEDBACK?