The area around the CPU socket on the KM18G Pro is quite not as "overclocker friendly" as other motherboards but that's not surprising.
PCStats Heatsink Clearance Measurements
Top Clearance:
15 mm
Bottom (cam) Clearance:
7 mm
Left Side (arm) Clearance:
18 mm
Right Side Clearance
16 mm
Socket Mounting Holes:
N/A
Max. Heatsink Base Dimensions:
~86x76 mm

Note: Approx. measurements are made from the edge of the socket (not the clips) to the closest obstacle taller than the ZIF socket itself.

The socket is 51mm across, and 62mm from top to bottom.
Because the KM18G Pro is not intended to be a speed demon Albatron didn't spend much time clearing out the socket area. Installation of larger heatsinks like the Thermalright SLK-800 or Vantec Aeroflow probably will not be possible. The retail AMD socket cooler will fit just fine.
Overclocking:
Let's be frank. The KM18G Pro is not intended to be an overclocking motherboard, and with no CPU or memory voltage options and no multiplier control we didn't really expect much out of the motherboard. We began to raise the FSB slowly and hit our maximum speed at a lowly 173 MHz FSB.
When viewing the benchmarks please keep in mind that the processor is also running at a faster speed.
A quick look at the BIOS: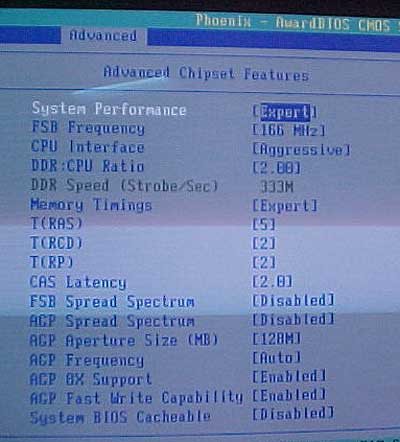 There's not much to see in the BIOS, we have FSB adjustments from 100-200 MHz in 1 MHz increments, Albatron includes a whole slew of memory ratios for you to choose from as well as the ability to adjust the memory timings.
Missing are any multiplier or voltage controls but that's fine considering most would not buy this motherboard to overclock with. Up next the benchmarks!!