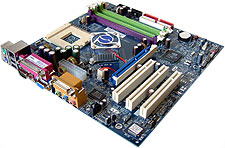 With the Albatron KM18G Pro V2.0, small does not mean weak in terms of performance.
As all the benchmarks have shown the KM18G Pro V2.0 does pretty well for itself and is able to keep up with the reference Epox 8RGA+ motherboard. With a retail price of $135 CDN ($100 US) the Albatron KM18G Pro will certainly not break the bank either.
For applications where space is scarce but a powerful computer is needed the KM18G Pro will certainly not let you down. nVIDIA's nForce2 chipsets are extremely fast, stable, and most importantly mature.
Because of its small size there aren't many onboard features but that's expected as there simply is not enough PCB to fit in everything under the sun. Albatron include the bare necessities; 5.1 audio, 10/100 LAN and a TV-Output bracket. If you do need to expand Albatron includes an 8x AGP port and three PCI slots which should be plenty for most typical consumers.
Because the nForce2 chipset generates quite a bit of heat it was nice to see Albatron decided to use an active cooler on the Northbridge. Many manufacturers have started putting heatsinks on the MCP/MCP-T Southbridge and it would have been nice for the KM18G Pro V2.0 have one as well.
Obviously, without multiplier or voltage control the Albatron KM18G Pro is not intended to be an overclocker, and the results here were nothing impressive. At the heart of a home theatre or SFF PC, the Albatron KM18G Pro brings all the nForce2 goodness down into a small package. I for one will definitely consider the Albatron KM18G Pro when I build my next HTPC!
Find out about this and many other reviews by joining the Weekly PCstats.com Newsletter today!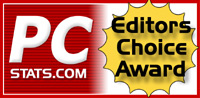 Related Articles:

Here are a few other articles that you might enjoy as well...

2.