In all honesty we didn't really know what to expect from MSI 875P Neo-FIS2R in terms of overclocking. Recent MSI motherboards have not been the greatest overclockers, but with all the voltage options available in the BIOS we were hoping for some great things out of the 875P Neo!
Starting off at 200 MHz FSB we began to raise the FSB slowly, at 217 MHz FSB the system would jump back to desktop while running 3D based benchmarks, raising the CPU voltage to 1.6V solved those problems. At 224 MHz FSB we again ran into a few quirks however upping the memory voltage to 2.8V and CPU to 1.7V fixed that.
Unfortunately the motherboard seemed to max out at 230 MHz FSB, raising the voltage to 3.3V or lowering the divider didn't seem to help nor did raising the CPU voltage to 1.85V+. A bit disappointing to be honest as the first 875P Neo-FIS2R hit 240 MHz+ with the same configurations - I guess I shouldn't have killed that BIOS in the first place... :-(
The blue lagoon... err BIOS
MSI allows the end user to tweak the memory timings of the system. We have the usual CAS Latency adjustments, RAS Precharge and RAS to CAS delay.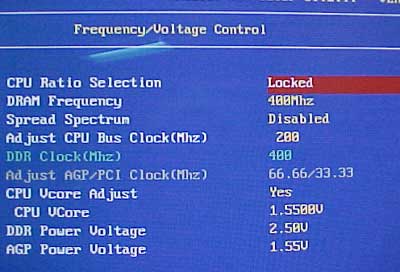 Ahh frequency and voltage control, the hang out for any overclocker. MSI gives the end user complete control over their system and how hard they want to push it. You have the standard 1:1, 5:4, 3:2 memory ratios as well as a 4:5 and 2:3 if you have really good memory. P4 C owners out there can potentially run their FSB at 500 MHz should your surrounding components be able to do those speeds.

For those hardcore overclockers out there who do not want to modify the motherboard for higher voltages the MSI 875P Neo is for you. CPU voltage can go as high as 2.3V, DDR voltage to 3.3V and AGP voltage to 2.1V ! Too bad MSI didn't include any VDD (chipset) voltage adjustments either.
Of course, if you plan to use those higher voltages (especially the CPU voltage options) be sure you have adequate cooling.