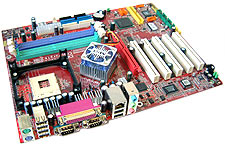 MSI have another clear winner with their 875P Neo-FIS2R! If you're looking for top of the line performance and a fully loaded motherboard the MSI 875P Neo-FIS2R will certainly not disappoint. And the best part is, with a retail price of $255 CDN ($185 US) the 875P Neo-FIS2R is also quite a bargain!
With 5.1 audio, Serial ATA/Serial ATA RAID and an additional Ultra/133 port, IEEE 1394 and Intel CSA Gigabit LAN what more can one ask for? If you need to expand in the future there are five PCI slots ready and waiting. MSI also bundle all the USB, IEEE 1394 and audio brackets you'll need for the headers as well as one Ultra/133 red rounded cable, four Serial ATA cables and two pass through Molex-to-Serial ATA Power connectors.
The layout of the 875P Neo-FIS2R is excellent and in fact we have nothing really to complain about on that facet. The main ATX, IDE and floppy drive connectors are in the prime location. Having all the headers at the bottom of the motherboard helps keep things neat and tidy.
While this may not seem like a big issue, I liked the fact that the motherboard had six USB 2.0 ports on the rear panel I/O.

I do wish MSI would incorporate a dual BIOS on their motherboards. I killed the first test unit while flashing with an official BIOS. A back up BIOS would have allowed us to recover and not have to RMA the board back to the manufacturer for repair.
Despite having the best voltage options for an i875P motherboard on the market, the unit we tested was not the best overclocker. Maxing out at 230 MHz FSB is lower than we would have hoped to have seen, and we have gone higher on "lesser" motherboards. I think however that I was unlucky this time as the original test sample did 240 MHz+ FSB on air cooling with ease.
In the grand scheme of things we are fairly impressed with the MSI 875P Neo-FIS2R, and what it manages to bring to the table. If you're in the market for a Canterwood motherboard, you should definitely consider this bright red board.
Find out about this and many other reviews by joining the Weekly PCstats.com Newsletter today!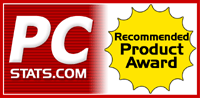 Related Articles

Here are a few other articles that you might enjoy as well...

2.