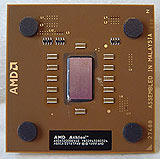 The AthlonXP has been very good to AMD, and consumers alike. The brand new AthlonXP 3200+ continues this proud tradition with excellent results. Although the K7 is near the end of its useful lifespan it is easily AMD's most successful processor; able to snag the performance crown away from Intel for a good two years!
As the benchmarks have shown in this review the AXP 3200+ is still very competitive against Intel's top of the line chip offering. While the Pentium 4 3.0C is clearly faster in benchmarks such as SysMark2002, things are much closer between the two in Winstone 2002 benchmarks.
The AthlonXP 3200+ has the advantage when it comes to FPU intensive applications, and the game benchmarks (other then Q3) tend to like the AMD processor a bit more.
The move to a 200 MHz Bus Speed was clearly a "Keeping up with the Jones'" move. Intel was surely going to capitalize on this with their P4 C processors so AMD might as well too. Flagship processors usually do not overclock very well, and that was true in our case. The AthlonXP 3200+ with a stock speed of 2.2 GHz was only able to hit 2.42 GHz on air cooling.
Unlike some previous launches, the AthlonXP 3200+ is readily available which shows that AMD no longer has any manufacturing problems. What they need though is for the AMD fans out there to "put up" and buy the higher end processors instead of "getting the $50 processor and overclocking".
If you're looking for the best AMD processor to date, the AthlonXP 3200+ is extremely fast and will easily satisfy all of your most demanding applications.
Find out about this and many other reviews by joining the Weekly PCstats.com Newsletter today!
Related Articles:
Here are a few other articles that you might enjoy as well...