PCStats Heatsink Clearance Measurements
Top Clearance:
12 mm
Bottom (cam) Clearance:
10 mm
Left Side (arm) Clearance:
33 mm
Right Side Clearance
16 mm
Socket Mounting Holes:
N/A
Max. Heatsink Base Dimensions:
~83x82 mm

Note: Approx. measurements are made from the edge of the socket (not the clips) to the closest obstacle taller than the ZIF socket itself.

The socket is 51mm across, and 62mm from top to bottom.
Magic-Pro did a decent job of clearing the area next to the CPU socket of obstructions. Larger heatsinks like the Thermalright SLK-800 or Vantec Aeroflow should fit on this board well. Because there are no mounting holes around the socket, older larger heatsinks like the Swiftech MCX 462 or Alpha PAL8045 are obsolete.
Overclocking the Purple Monster:
Hey, just because this board is a budget mobo doesn't mean we're going to spare it from our overclocking tests!
Using an AthlonXP 3000+ processor we started lowering the multiplier to 10x, and raised the FSB up a notch. Unfortunately, our overclocking adventures were cut short and we ended up maxing out at a lowly 178 MHz FSB.
With no AGP/PCI locking, I believe the ATi Radeon 9700 Pro was holding back the motherboard. Perhaps someone with a Ti4600 or older videocard could have pushed the board a bit farther, but with out a DX9 videocard what fun would that be?
Exploring the Blue BIOS: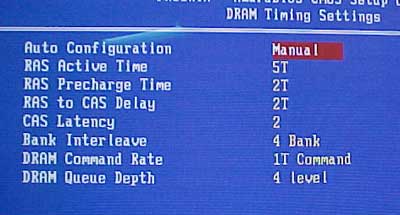 People with VIA based motherboards should recognize that screen shot. Here we have all the usual memory tweaks that one would expect.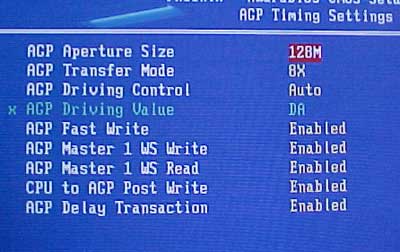 There are a whole slew of AGP options for the hardcore tweaker.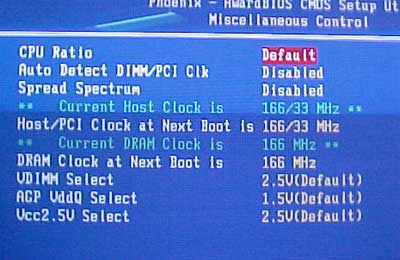 If you have an unlocked processor Magic-Pro gives you access to the 5-12.5x range. Maximum FSB on the motherboard is 233 MHz and it's adjustable in 1 MHz increments. VDIMM goes up to 2.8V, AGP to 1.6V and VCC to 2.6V. Up next, the benchmarks.