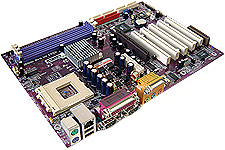 In all honesty it sees like the release of the VIA KT400A chipset was a desperate move from a company worrying about losing its' market share. It is okay for a company to concede defeat for one or even two releases if it will allow them to catch up. nVIDIA did just that when their original nForce chipset bombed, and they waited a full year before releasing the highly successful nForce2.

As the benchmarks have shown, the KT400A based Magic-Pro MP-K7V-400A does outperform the Albatron KX400-8XV Pro KT400 motherboard, but it's still not up to the mark set by nForce2.

I guess with a retail price of $118 CDN ($85 US) all can be pretty much be forgiven. As always you get what you pay for and in the case of the Magic-Pro MP-K7V-400A, you get a decent performing motherboard with a few features (10/100 LAN and 5.1 audio).

This is a great motherboard for newbies to learn on, it's well labelled and the manual is quite detailed but if you do end up killing the mobo it's not that expensive that it'll break the bank. You need not fear if you have a small cramped ATX case, the Magic-Pro MP-K7V-400A should fit just fine.

Because of the relatively small size, I understand that some components will be placed in awkward positions. The IDE and floppy drive connectors are a bit low on the PCB for my tastes, and you're going to have to remove the videocard if you're plugging in IDE cables.

If you're looking for an inexpensive motherboard, or one for a second computer, the Magic-Pro MP-K7V-400A should serve you just fine but if you're looking for something with a bit more zip, you're absolutely going to be looking elsewhere.

Thanks to Canada Computers for providing the Magic-Pro K7V-400A motherboard to PCstats.com for review.

Find out about this and many other reviews by joining the Weekly PCstats.com Newsletter today!

Related Articles:

Here are a few other articles that you might enjoy as well...

2.