Overclocking

Motherboard

FSB
Ranking
1.
Asus A7N8X
187 MHz
2.
MSI K7N2-L
175 MHz
3.
Epox 8RDA+
214 MHz
4.
FIC AU11
183 MHz
5.
FIC AU13
173 MHz
6.
Magic-Pro K7N-Ultra-S
211 MHz
7.
Abit NF7-M
200 MHz
8.
Albatron KM18G Pro

173 MHz

9.
AOpen AK79G MAX
185 MHz
10.
Epox 8RGA+
229 MHz
11.
MSI K7N2G-ILSR
175 MHz
Obviously overclocking is luck of the draw but this was how high we could go with each mobo. It's funny, the Epox boards do very well but the AU11 does not. Magic-Pro does pretty well but it's using the newer C1 nForce2 Northbridge.
Conclusions...
So what can we take from all this information?
If you're not going to be overclocking or do not need a whole whack of extra features then you might as well get the cheapest nForce2 board you can find as they pretty much all perform the same. If you plan to work with a lot of multimedia devices perhaps it's worth your while to spend a bit more and get one of the better equipped motherboards as it should save you money in the long run.
nVIDIA's nForce2 is easily one of the most successful K7 chipsets ever. What's so surprising is that the competition has not been able to counter the eight month old chipset until just recently. nVIDIA certainly learned a lot from the original nForce flop. Anyone contemplating purchasing a new AMD motherboard should really only consider getting a nForce2 based board as the new VIA KT400A and KT600 chipsets have not been around long enough to have their bugs worked out.
Looking back at things, it's easy to see why the nForce2 was just so successful. Dual DDR was more for marketing purposes but the memory controller of the nForce2 was just so much more powerful then its competition.
The ability to lock AGP/PCI's is a great feature and one that most overclockers out there are looking for. Most importantly this time around nVIDIA got the chipset out to the public relatively quickly and didn't price themselves out of the market like they did with the original nForce.
AOpen AK79G MAX
While the most expensive motherboard of the group at $183 CDN ($135 US), the AOpen AK79G MAX does offer more features then any other motherboard of the group. It doesn't stop there, AOpen also offers the best software bundle which actually includes useful utilities. If you're looking for a computer that's full of features like IEEE 1394, Serial ATA or a good 5.1 soundcard it may be in your best interest to spend a bit more on the motherboard now so you don't have to buy as many other PCI devices in the future.
Albatron KM18G Pro
While they were a bit late to the nForce2 game Albatron looked at the market and saw a big hole in the Micro ATX motherboard field. Don't let its small size fool you either, the KM18G Pro V2.0 was quite a performer - easily able to keep up with its bigger brothers. If you're a performance enthusiast, you'll probably want to get something else but if you want to build yourself a SFF PC then the Albatron KM18G Pro is perfect. I guess the only down side is that the board is a bit expensive at $135 CDN ($100 US). Then again, smaller components have always cost more.
And lastly the Epox 8RDA+.
Of all the motherboards we have tested so far the Epox 8RDA+ easily offers the most bang for the buck. From the performance users perspective, or even just for office work, the Epox 8RDA+ can deliver on all fronts. The motherboard is quite bare on the feature front, but with a $112 CDN ($85 US) retail price you can simply buy the necessary peripherals and plug it into one of the six PCI slots.
Overclockers take note, our particular test sample was based on the original A1 stepping and we were able to overclock the motherboard to 214 MHz. With better cooling 220 MHz FSB should be possible. The newer C1 based 8RDA+'s should have no problems hitting 230 MHz+ assuming the surrounding hardware is up to it.
So there you go, out of all the nForce2 motherboards in this round up the Epox 8RDA+ gets the PCstats.com Editors Choice Award!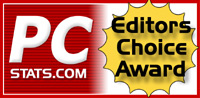 Find out about this and many other reviews by joining the Weekly PCstats.com Newsletter today!

Related Articles:

Here are a few other articles that you might enjoy as well...

1. Massive 10 Motherboard i845E/G Roundup


2. Business and School Integrated Motherboard Roundup