Epox 8RDA+ Motherboard




Ships with the following:

IDE ATA66/100 Cable
FDD Cable
Driver CD
Utilities CD
User Manual
Quick Install Guide
Rear I/O Back Panel

Brackets:

Game Port Bracket

IEEE 1394 Bracket

USB 2.0 Bracket

My experiences with Epox both as a reviewer and as a consumer has been positive all around.
None of their motherboards have ever let me down, and I have purchased seven boards in the last year and a half! I still remember receiving the test sample and being excited about overclocking potential of the motherboard.
The 8RDA+ is a very "busy" motherboard and there's almost no free space other then around the CPU socket area. The layout of the 8RDA+ is not the best out there but it's not too bad. One feature I have grown to love is the Port 80 diagnostics card, I wish every motherboard was equipped with one of them! They certainly make diagnosing hardware problems much easier!
The 8RDA+ does not have many integrated features other then IEEE 1394, 5.1 audio (nVIDIA SoundStorm) and 10/100 LAN but that's expected with a retail price of $112 CDN ($85 US) ! If you do need to expand the 8RDA+ has six PCI slots, filling them won't be easy.
For the overclockers out there, the 8RDA+ has one of the more powerful BIOS's to play in. If you have some good cooling (water, TEC, phase change) you can feed the processor up to 2.2V. Memory voltages go up to 2.9V which is pretty drastic! Newbies out there need not worry when playing around with the 8RDA+, it's very user friendly.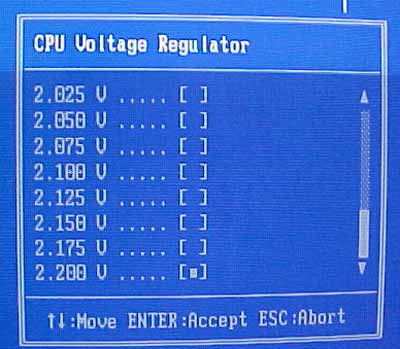 With the floppy drive connector located at the bottom of the motherboard, users with full tower cases may have problems attaching the floppy drive. We would have preferred to see the main IDE channels a bit higher up on the motherboard. Where they are, they may need to wrap around some of the other system devices causing "hot spots".
If you do plan to do some hardcore overclocking you'd better swap the Northbridge heatsink for something better. While it works just fine at stock speeds, it'll definitely hold any overclocker back if you're planning to go past 220+ MHz FSB. One possible suggestion for better northbridge cooling is the Microcool Northpole, and aftermarket copper heatsink shown below.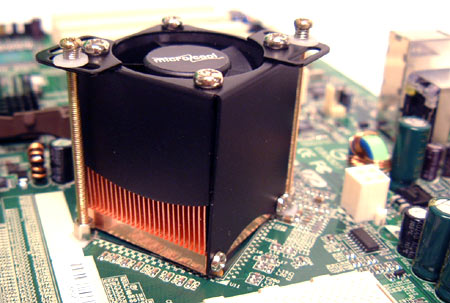 From budget to hardcore overclocker whatever you want, the Epox 8RDA+ can deliver! It may not be the most well equipped motherboard of the bunch, but the low price and awesome speed it musters will surely attract all.