Abstract: Despite a bit of a delay at the release of the nForce2 chipset, nVidia appears to have learned their lessons well and have not made the same mistakes twice.

Home > Reviews > Motherboards > various nforce2
8RDA+'s twin, the FIC AU11
FIC AU11 Motherboard

Ships with the following:

IDE ATA66/100 Cable
FDD Cable
Driver CD
Utilities CD
User Manual
Quick Install Guide
Rear I/O Back Panel

Brackets:

USB 2.0 Bracket

IEEE 1394 Bracket

Game Port Bracket

Doesn't the FIC AU11 looks a lot like the 8RDA+ minus the Port 80 diagnostics card huh? Until recently FIC was better known for their strong OEM ties rather then their retail products. As for who really manufactures the AU11/8RDA+ we're not sure... but it doesn't really matter anyway.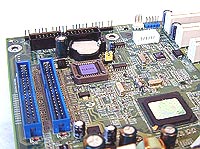 With a retail price of $130 CDN, ($97 US) the AU11 is slightly more expensive but it does come with nVIDIA soundstorm audio, 10/100 LAN and IEEE 1394. If you need something a bit more the FIC AU11 is easily expandable with its six PCI slots and lone 8x AGP port. The BIOS that accompanies the AU11 is extremely powerful and should satisfy even the most hardcore of overclockers out there.
Going back to onboard audio, these days most manufacturers include a CPU sapping audio software codec just so that their motherboard comply with the standard marketing check list. That's why we were so pleased to see that FIC went out of their way to include the awesome nVIDIA SoundStorm 5.1 Dolby Digital soundcard on the AU11.
Because the 8RDA+ and AU11 are identical, all the faults that we mentioned about the 8RDA+ apply to the AU11 as well. We would have liked to see FIC include a Port 80 diagnostics card on the AU11 as well, after all the silk screen is there. FIC chose to go with the same Northbridge heatsink that Epox used and it's going to be the first thing that an overclocker changes. While it's just fine at stock speeds, it'll definitely hold back any overclocker in search for a high FSB.
Performance of the AU11 is very good, it scored very well during benchmark testing and was an excellent overclocker. If you can find the FIC AU11 at a reasonable price by all means pick it up. It'll certainly keep you happy.
SEARCH PCSTATS

---

Use the power of Google to search all of PCSTATS and the PCSTATS Forums. Tell us what you think of this new feature - FEEDBACK?