PCStats Heatsink Clearance Measurements
Top Clearance:
9 mm
Bottom (cam) Clearance:
8 mm
Left Side (arm) Clearance:
32 mm
Right Side Clearance
28 mm
Socket Mounting Holes:
N/A
Max. Heatsink Base Dimensions:
~78x116 mm

Note: Approx. measurements are made from the edge of the socket (not the clips) to the closest obstacle taller than the ZIF socket itself.
The socket is 51mm across, and 62mm from top to bottom.
It's a shame Gigabyte did not include the four mounting holes that surround the CPU socket. Without those holes, larger heatsinks which bolt onto the motherboard will not work (Alpha PAL8045).
Because of the close proximity of the capacitors, you may even have problems installing heatsinks like the Thermalright SLK-800 or Vantec Aeroflow!
Overclocking: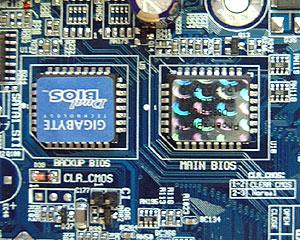 To be honest we didn't really know what to expect from the Gigabyte GA-7VT600 1394 in terms of overclocking. We knew however without AGP/PCI locking our ATi Radeon 9700 Pro was going to limit how high we can go as it can only handle a 70 MHz AGP speed.
Since we've upgraded our AMD test processor from the AthlonXP 3000+ to the AthlonXP 3200+, starting at 200 MHz FSB we began to raise the bus speed slowly.
We ran into a peculiar problem with the GA-7VT600 1394, if we went even 2 MHz FSB above stock Quake III would artifact and lock up! Nothing we did would resolve this issue, interestingly though all the other benchmarks ran just fine.
Unfortunately our overclocking adventures abruptly came to a halt at 215 MHz FSB. Raising the voltages above stock did not help net a higher overclock.