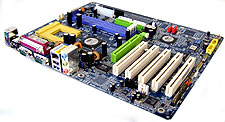 For VIA and their board partners the KT600 (while an improvement on the older KT400/KT400A) is only competitive with nVIDIA's nForce2 in the 2D world. In anything memory intensive, or 3D, the VIA KT600 chipset is simply no match for nForce2. Considering the Gigabyte GA-7VT600 1394 only retails for $143 CDN ($102 US) pretty much all can be forgiven.

The layout of the motherboard is excellent, Gigabyte obviously took a lot of time and effort when laying out all the components. Having all the major connectors to the right of the DIMM slots and all the header connections at the bottom of the motherboard certainly makes things much easier for the end user. Even if you're using longer PCI cards, there's nothing that will get in the way!

For those of you like to push your systems a bit more, you'll probably want to get something else as the only way to modify the multiplier on the processor is through DIP switches. As VIA have chosen not to implement AGP/PCI locking within the KT600 chipset it's possible enthusiasts will be limited by other system devices like we were with the Radeon 9700 Pro.

In terms of performance the Gigabyte GA-7VT600 1394 did quite well in the 2D based benchmarks like SysMark2002 and the Winstone 2002 benchmarks, but in the 3D type benchmarks it did poorly. This is disappointing considering the KT600 chipset is brand new and the nForce2 is about a year old now. Hopefully as the KT600 matures, drivers will be able to extract a bit more performance out of it. Looks like VIA has to go back to the drawing board, the KT600 is not a worthy opponent to the nForce2.

If you're in the market for a new motherboard for a workstation computer, or for at home balancing the checkbook the Gigabyte GA-7VT600 1394 is a perfect option to build around.

Related Articles

Here are a few other articles that you might enjoy as well...

2.