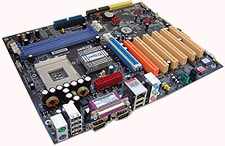 Despite having a year to counter nVIDIA's nForce2 offering, VIA is only now beginning to achieve performance levels that are comparable, albeit still behind. Considering VIA's track record with chipsets, and chipset revisions (or should that be "chipset revisionsA" ), is it all that surprising they're already expected to release another K7 chipset in the next few months?
In terms of 2D performance the Aopen AK77-600 Max ran through the benchmarks rather well; the board is able to keep up with the Epox 8RGA+ in all the office based benchmarks in fact. While the KT600 chipset does not posess as much bandwidth as a nForce2 based system, loads of bandwidth are not really necessary for applications such as Microsoft Word. In the 3D world, the KT600 based AK77-600 Max is a bit slow; 3DMark, Quake III Arena, UT2003 they all say the same thing and that's simply that the KT600 chipset cannot keep up.
Overclocking the AK77-600 Max was not very fun, but that setback lays squarely with the chipset designers at VIA. Without AGP/PCI locking, we were only able to hit a measly 210 MHz FSB because the Radeon 9700 Pro would not take a higher AGP speed. If you're into 3DMark or pumping out the highest SiSoft Sandra screen shots than you're definitely going to want to go the nForce2 route.
Performance aside, AOpen did pack a bunch of value into their AK77-600 Max. With a retail price of $180 CDN ($133 US), and Serial ATA/Serial ATA RAID, a third Ultra/133 IDE channel, 5.1 audio, Gigabit LAN, IEEE 1394, dual BIOS's and six PCI slots for expansion, the board is pretty aggressively priced and offers a significant treasure trove of features.
I like the AK77's layout because everything is labelled clearly. They also offer an extremely detailed users manual so this board is great for those who are building a PC for the first time. The software bundle is something we usually don't spend to much time on, but the one that comes with the AK77-600 Max is good.
If you're not a hardcore gamer and want a motherboard which offers excellent flexibility then the AOpen AK77-600 Max is a great option, and at a very enticing price.
Find out about this and many other reviews by joining the Weekly PCstats.com Newsletter today!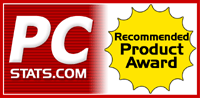 Related Articles

Here are a few other articles that you might enjoy as well...

2.