AOpen placed most of the device headers near the bottom of the motherboard, making things easier on the end user when they go ahead and install all the little brackets that come included (Audio, game and USB) with the motherboard. There is one USB2.0 header between the second and third PCI slots so it may be a bit tricky fishing the connecting wires around adjacent devices. If you're careful it should be easy enough to feed the wire around without blocking any important cooling fans, or PCI cards.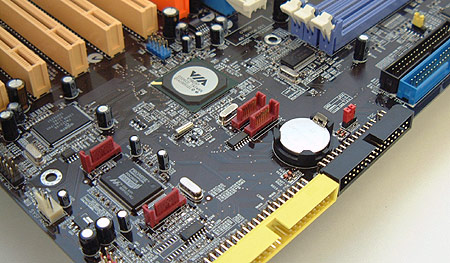 There is a trend which has recently emerged from several manufacturers where IDE/floppy drive connectors are mounted at 90 degrees the PCB. This small adjustment really makes it a lot easier to keep cables out of the way of PCI devices, and can help improve good airflow in the system if you take the time to fold the cables nicely out of the way of intake fans.
As with all AOpen motherboards we've tested to date, the KT600-based AK77-600 Max is very well labelled and detailed. Newbie users will have no problems installing the board without having to refer to the manual. If users do find they need to check the manual, they'll find a 136 page booklet which is clearly written and easy to understand.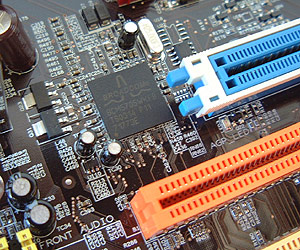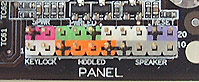 I also like how this AK77-600 Max has colour and polarity markings on the front panel I/O header.
While some individuals may not fawn over this, I really like the fact that the AK77-600 comes equipped with six USB 2.0 ports on the back panel. I recently found myself without enough USB ports as my mouse, remote wonder, digital camera and scanner are all USB devices and I needed just one more port to attach a new Logitech game pad. It's frustrating when you have to stop, dig out the old USB hub and plug it in just for one more USB device, even it if does only take a few minutes.
You're probably wondering what the significance of the orange PCI slot just below the AGP adaptor is. That's a PCI slave slot, meaning it cannot assume control of the PCI bus and therefore you cannot use any PCI expansion card that requires PCI Bus Mastering (such as soundcards, multimedia or videocards). Not using those types of PCI cards here is a good rule of thumb anyway as that slot shares the IRQ with the AGP.