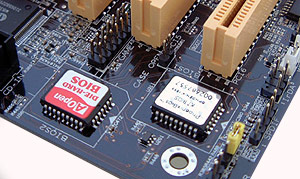 With the ever increasing number of virus attacks, power outages, and acts of mischief within the family by well intentioned geeks, it's certainly a good idea to have twin BIOS chips these days.
With a dual BIOS such as this, one BIOS chip does nothing other than store the last good BIOS version for safe keeping. If something ever happens to the main BIOS, the user can quite easily re-flash it with the data stored on the second BIOS.
Sure the odds of a power failure happening when you're updating a motherboard to the latest BIOS revision are slim.... but sending a motherboard out to be RMA'd can take weeks, and that leaves you without a computer the entire time!
On that note we were also extremely happy to find a full version of Norton AntiVirus 2003 included as the software bundle for the AK77-600 Max. It's possibly the most powerful and easiest antivirus software on the market today, and considering recent events, not being protected from email worms, viruses, and exploits will almost guarantee your computer becomes infected from the internet.
After playing around with nForce2 boards for the last little while, I really appreciate how little heat the VIA KT600 Northbridge generates. In fact AOpen only had to place a small BX style cooler on the Northbridge which is attached with some double sided tape to get the job done.
Native Serial ATA/Serial ATA RAID support with the new VT8237 southbridge is also a nice feature, and it gives VIA the upper hand over nVIDIA in ever important battle for your hard earned dollar.
Heatsink Clarances:
PCStats Heatsink Clearance Measurements
Top Clearance:
10 mm
Bottom (cam) Clearance:
11 mm
Left Side (arm) Clearance:
16 mm
Right Side Clearance
27 mm
Socket Mounting Holes:
N/A
Max. Heatsink Base Dimensions:
~82x83 mm

Note: Approx. measurements are made from the edge of the socket (not the clips) to the closest obstacle taller than the ZIF socket itself.
The socket is 51mm across, and 62mm from top to bottom.
Those of you with the older bolt on Socket A heatsinks will appreciate the four surrounding mounting holes around the CPU socket. AOpen did a fair job at clearing out the CPU socket area of obstructions too. Larger heatsinks such as the Alpha PAL 8045 or Thermalright SLK-800A should have no problems. The popular Thermalright SLK-900U may have some problems though, as its large fins may hit some of the near by capacitors.