Because the VIA KT600 chipset does not support AGP/PCI locking I knew that our overclocking adventure would not go too far (the Radeon 9700 Pro videocard doesn't work well at high AGP speeds). Still on with the overclocking tests...
Using an AMD AthlonXP 3200+ processor at 200 MHz FSB we began to raise the bus speed slowly. Surprisingly the AK77-600 Max would boot all the way up to 220 MHz FSB, but when we ran anything 3D intensive the board would crash back to desktop. In order to keep the system stable, I had to lower the FSB to 210 MHz FSB. Anything higher and the 3D application tests would always crash.
While this isn't the best overclock in the world, it's not unexpected from the KT600 chipset. Perhaps we were using a videocard which could handle the higher FSB's we could have gone higher.
The BIOS: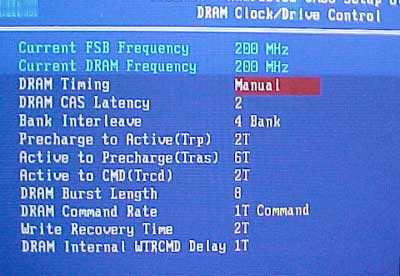 I enjoy tweaking VIA based motherboards quite a bit as they offer so many options... The Aopen AK77-600 Max is no different, just look at all those possible combinations! =)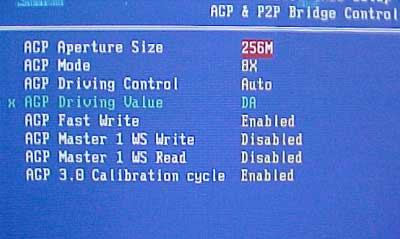 AGP options for those of you who like to change the AGP settings.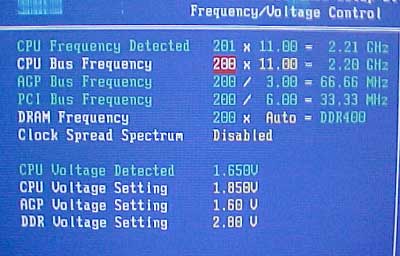 The Cypress W312-02H clock generator allows the board to go up to a maximum of 248 MHz FSB. There is also full multiplier control and we're able to set the memory to run faster or slower than the FSB. Maximum CPU voltage goes to 1.85V. AGP is adjustable to 1.6V, and DDR to 2.8V.