With so many items crammed onboard the ATX motherboard, the Gigabyte GA-8KNXP has virtually no room to spare on the PCB. In general, the layout of the 8KNXP is very good, considering just how little open space remains.
For example, we can install and remove system memory without having to first remove the videocard. Also, the IDE/floppy and main ATX power connector are in the ideal location adjacent to the DIMM slots.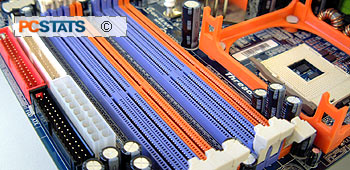 We're happy to see the Serial ATA ports all packed nicely together and we amazed to see Gigabyte include five Serial ATA cables! Too bad they only included one Serial ATA power adapter though. To make things easier for the end user, there are two manuals on RAID, one for the Silicon Image Sil3112ACT144 Serial ATA RAID controller and one for the GigaRAID IT8212F Ultra/133 IDE RAID controller.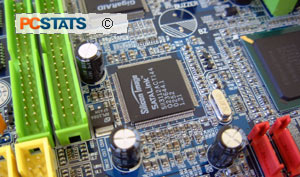 If you cannot figure out how to setup RAID after reading the two manuals, then RAID is just not for you. If you don't feel like setting up a RAID array, you can use the controllers for standalone HDD's.
On that note it seems like many manufactures are starting to include regular Ultra/133 IDE controllers on their boards again as well. I think this is a great move considering just how many people are still sticking with their trusted IDE HDD's.