Gigabyte has always had extremely well detailed PCB's and the 8KNXP is no different. Every header, jumper and even silk screen, is labelled. If you have installation problems, the detailed users manual will be able to guide you.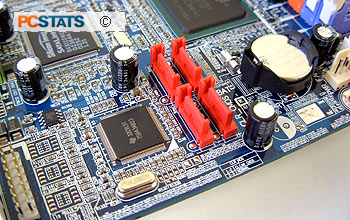 We're always impressed with Gigabyte's software bundle and the fact that they include Norton Internet Security 2003 goes a long way towards peace of mind.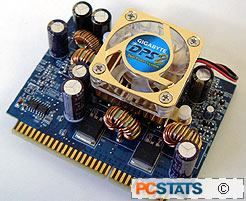 While at stock speeds it doesn't get hot, When overclocking, the i875P Canterwood chipset can generate a fair amount of heat so we we're glad to find the Gigabyte 8KNXP included an active cooling solution on the Northbridge.
The heatsink is attached through the PCB which also opens up the possibility of swapping it out for an aftermarket chipset cooler if desired.
The dual power system on all high end Gigabyte motherboards is very cool. Who wouldn't like cleaner more stable voltages going to their devices? The DPS2 daughter card plugs into a special keyed slot between the IO ports and processor socket.
The motherboard will run with and without the daughter card installed, but when inserted it facilitates a 6-phase powersupply to keep the Intel Pentium 4 running smoothly.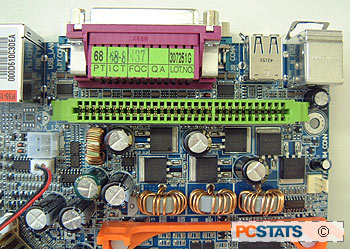 When monitoring the voltages though the BIOS, the values were about the same with and without the DPS module, which is exactly what we would have expected to see since the DPS2 module and onboard powersupply work in parallel. The idea being, aside from working to deliver cleaner power, if one ever begins to fail, the DPS2 can take up the slack.