Despite having a whole load of integrated features we were happy to find the 8KNXP still has five PCI slots for expansion.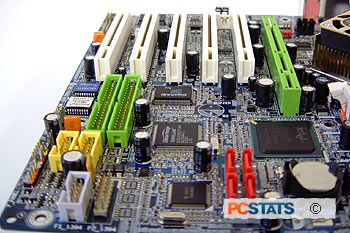 I never really appreciated dual BIOS's until I accidentally killed a motherboard with a bad BIOS flash. After two weeks of waiting for the board to be returned, I came to appreciate having a backup BIOS.
The Gigabyte GA-8KNXP prevents situations such as this thanks to a backup BIOS, that cannot be directly flashed by the user. If the primary BIOS is damaged, or corrupted, you can quickly recover it from the second.
Overclocking the 8KNXP
Gigabyte boards have been pretty good to us in the past in terms of overclocking and we were expecting that the GA-8KNXP would as well.
Starting at 200 MHz FSB we began to push the speed up slowly. At 211 MHz FSB we had to raise the DIMM voltage to 2.8V to stabilize the situation. At 220 MHz FSB, the CPU began to flake out, so the voltage was raised to 1.6V.
In the end the Gigabyte 8KNXP would hit 225 MHz FSB, however we had to enable the 5:4 memory divider for the board to be stable.
The 8KNXP maintains access to Advanced Chipset Features, but you must first press CTRL F1 to unlock the options. Once you're inside, you'll find the usual tweaks we'd expect from a performance i875P motherboard. We even have CPC, Fast Chip Select and Dynamic Paging options!
While fast performing and offering a lot of value, Gigabyte seems to be shying away from the enthusiast market. In terms of FSB we can adjust it from 200-355 in 1 MHz increments and we can fine tune the AGP/PCI independent of the FSB. There are the usual 1:1, 5:4 and 3:2 memory dividers and the voltage options are as follows; DDR can go as high as 2.8V, AGP to 1.8V and CPU to 1.6V.