While you can find many i865PE motherboards at fairly aggressive prices, the introduction of the SiS 655FX should help drive prices down even further. All the better for the consumer I say!
After all, other then brand loyalty to Intel, why would you want to spend more money for something that is not any faster?
Like VIA managed to accomplish a few years ago, it's now SiS' time to strut their stuff and they've been taking full advantage of their time in the spotlight. Third party chipset manufacturers in the past have had a really hard time offering Intel-type performance, so instead of improving, they just sold their wares rock bottom prices. VIA, SiS and ALi were all low cost, low end providers in the past.
Unfortunately, because the Gigabyte GA-8S655FX Ultra is not available for retail sale yet, we're not sure how much it's going to run for.... however we do not expect it to be expensive. Even with Serial ATA/Serial ATA RAID, an Ultra/133 IDE RAID controller, IEEE 1394, 10/100 LAN, 5.1 audio and dual BIOS's we expect the board to run for under that of most i865PE-based motherboards.
The board is very user friendly and has an excellent layout. As I mentioned earlier it looks like Gigabyte designed the board with the end user in mind as the peripherals and ports are in their most ideal location. The board also has a ton of detail on it so if you're not sure what something does, look around on the PCB and you'll find your answer. The only thing that bothered me about the motherboard was the missing clear CMOS jumper. Having to short two solder points is a real pain in the butt, I hope Gigabyte fronts the extra cent, and starts including an actual jumper.
The BIOS options should tell you that this board is not intended for enthusiasts and we were not able to overclock the motherboard even 1 MHz FSB. A bit odd but then again we are using what looks to be beta silicon; we're hoping that retail boards will be a bit more overclocker friendly.
Performance of the board was very good as you have seen from the benchmarks. In basically every test, the Gigabyte GA-8S655FX Ultra performed faster than the i865PE motherboards, and often times gave i875P Canterwood chipset a good run for its money.
SiS has come a long way and they cannot give up now even though they're not really getting the recognition they deserve. As they release newer drivers, it wouldn't surprise me to see the 655FX surpass the i875P in terms of performance! Coming from SIS, that just shows you how the company has improved.
Find out about this and many other reviews by joining the Weekly PCstats.com Newsletter today!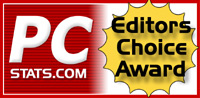 Related Articles

Here are a few other articles that you might enjoy as well...

2.