VIA's platform for the Athlon64 is the K8T800. It's offered in two varieties, the server/workstation version for the Opteron processor and the Performance PC platform for the Athlon64. Both versions use the VT8237 Southbridge.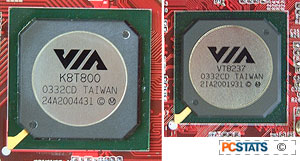 The major selling point for VIA's chipset is that it features a faster Hypertransport link (800Mhz DDR for an effective 1.6Ghz) between the CPU and the chipset than the offerings from the other companies.
As the K8T800 uses a 16-bit (meaning 16bits of data in each Hypertransport packet) link, this enables the path to reach a maximum bandwidth of 3.2GB/s (1.6Ghz * 16 / 8) in each direction for a rather impressive maximum theoretical bandwidth of 6.4GB/s.
VIA proposition that problems with signal interference have forced many of their competitors to resort to using lower speed implementations of Hypertransport, a problem which they have resolved with something called "Hyper8" technology.
Of course, this additional bandwidth is only useful if it is actually being used by the system. Let's take a look at some numbers, at least in general. Take the bandwidth needed for the memory transfer away, since the controller is on the CPU itself and has its own private bus, and you are left with the AGP bus and the other I/O subsystems like Serial ATA and PCI feeding into the Hypertransport link.
AGP 8x has a theoretical maximum of 2.1GBps, which is a hefty chunk of the available room, but what else is there? The headroom needed for the accumulated contributions of all the other I/O subsystems is pretty insignificant in comparison.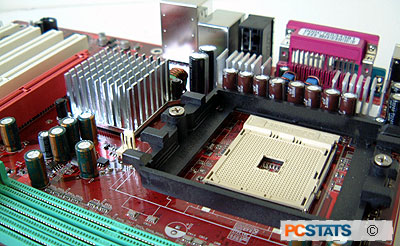 If you take the current implementations of USB2.0, Serial ATA and Gigabit Ethernet, not to mention PCI, and combine them together the maximum bandwidth needed is still well under 500MB a second.
VIA seem to acknowledge this, as the link between the VT8235CE Southbridge chip and the k8T800 Northbridge is still only spec'd at 533MBps, the same as in VIA's current KT600 and Kt400A chipsets for the Athlon XP processor line.
Maximum memory for the chipset is set at 4GB, though most companies producing K8T800 boards, including the K8T Neo-FIS2R, have a 2GB limit.
7.1-channel audio, courtesy of Via's 'Vinyl' integrated sound controller is also in the mix, along with the mandatory 10/100 Ethernet.
Despite the fact that the memory controller is now built into the Athlon64 processor, the K8T800's passive heatsink did get quite warm during testing.