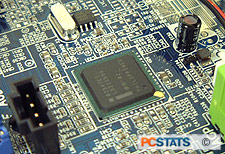 Dual BIOS' are something that I think most users overlook as most times BIOS flashing is pretty uneventful. I fall into that catagory as well and took it for granted until I killed a motherboard with a bad BIOS update. The round trip for a new board took about three weeks (which is already pretty fast) but I'd go nuts if my main PC was offline for that long. I wish more manufacturers would adopt dual BIOS's as it can greatly save their customers from headaches.
I think the only thing I have to complain about the board is the lack of a clear CMOS jumper. Having to short two solder points is very annoying and I'd hate to have to do that with the motherboard installed into a case!
What is CIA?
There have never been more overclockers/enthusiasts as there are right now. For the newbie users on the market who don't know how to overclock their system, Gigabyte makes things a bit easier with their CIA application.
Basically when the board detects that the CPU is under load it will automatically raise the FSB a bit depending on how high you set it. The default is 3%. If that's not good enough for you you can raise the amount of overclock to 10% or even 15%! CIA does not change the voltage to the system devices or memory dividers so it's possible that you might run into a few stability problems if you set CIA too aggressively. We ran into stability problems with CIA set to +15%...
I was surprised to see that CIA is enabled by default especially considering overclocking voids all warranties. To test CIA we ran the system under load with various settings and the system did score higher in benchmarks thanks to it. When the applications were finished the motherboard lowered the CPU speed down to default.