We're pretty impressed with how Soltek was able to bundle so much value into their SL-K8AN-RL motherboard, yet still manage to keep the retail sticker price at just $130 CDN ($100 US)!
As the benchmarks show, the SL-K8AN-RL is no slouch either as it bested the MSI K8T Neo and Albatron K8X800 Pro II in the office based benchmarks and was only marginally slower in the 3D test suites. If you're a hardcore overclocker you're probably going to want to look elsewhere as the board does not have many overclocking functions. If you're a newbie, the SL-K8AN-RL motherboard is a great starter as it does not allow for high enough voltages that could kill components.
The Soltek SL-K8AN-RL doesn't include every bell and whistle we're accustomed to seeing from tier one manufacturers, but it isn't totally without either. The SL-K8AN-RL includes Serial ATA/Serial ATA RAID, an third Ultra/133 IDE channel, 5.1 audio and 10/100 LAN. The layout of the motherboard is pretty good and you won't have any problems installing the board into those smaller ATX cases, but it is not as well labelled as others we have tested. Soltek includes an impressive software bundle which is alway nice too.
Ideally, this board is targeted towards the mainstream Athlon64 user who's not into extreme [overclocking-based] performance, but simply wants a cost-effective solution which is quick. Soltek manage this, and if the thought of moving to the Athlon64 is on your mind, then the Soltek SL-K8AN-RL should make for a very good option without having to break the bank!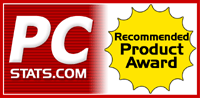 Find out about this and many other reviews by joining the Weekly PCstats.com Newsletter today!

Related Articles

Here are a few other articles that you might enjoy as well...

2.