It should be pretty clear by now that if you're looking for a top of the line Athlon64 motherboard the Chaintech Zenith ZNF3-150 easily delivers.

The Zenith ZNF3-150 is a very well rounded motherboard, and with a retail price of $240 CDN ($180 US) you'd have to expect a speedy board with a lot of features. In terms of onboard goodies, the Zenith ZNF3-150 has Serial ATA/Serial ATA RAID and an additional IDE controller, IEEE 1394, Gigabit LAN and VIA's new Envy24PT 7.1 soundcard.

Chaintech also include a decent software bundle that includes Pro-Magic, Image It and Norton Anti Virus. Along with the long list of bundled goodies (rounded cables, CBox3 5 1/4" utility drive bay, etc.) there is the very unique Radex MOSFET cooling accessory.
The heatsink on the nForce3 was somewhat disappointing, and along with one a particularly hard to reach jumper things were not all perfect however. Yet, overall I'd have to say that performance of the ZNF3-150 motherboard was excellent, and it was quite an overclocker as well.
The Chaintech Zenith ZNF3-150 is a worthy motherboard for even the most demanding Athlon64 user, and I'm positive if you tried one out yourself you'd agree.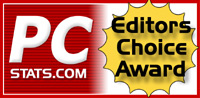 Find out about this and many other reviews by joining the Weekly PCstats.com Newsletter today!

Related Articles

Here are a few other articles that you might enjoy as well...

2.