A few years ago home networking really took off. If you're house had CAT5 Ethernet cable running through the baseboards you were ahead of the curve. Manufacturers saw a real market for people looking to have the effective connectivity of an Ethernet network, without the cost and trouble of laying down meters of blue cable.
The solution was to go wireless, and shortly thereafter the industry experienced a slow and steady boom in WiFi - 802.11b networking.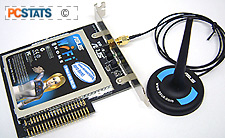 For consumers with three or four PCs in one household, wireless networking is a relatively inexpensive means to connect them all together. While wireless signals fare best in unobstructed spaces, the signals can typically penetrate walls and doors without too much signal loss. The main difference then becomes the transmissions rates, where 802.11b sits at 11mbps as opposed to 10/100 wired Ethernet that runs at 100mbps.
Making life easier for the consumer, Asus has thoughtfully bundled in its own wireless 802.11b adapter card and dipole antenna with the K8V-DLXWiFiB motherboard. It's a proprietary Wireless Fidelity slot, so the card won't work with anything other than Asus motherboards with the appropriate connector, but it's still a very useful feature to be bundled in. The Dipole antenna sits at the end of a 60cm cable so it can be positioned up on top of a desk for better range.
The WiFi NIC works at the standard 802.11b frequency of 2.4~2.5 GHz, and indoors it should have a useful distance of about 30m. If you ever take you PC outdoors (say, a LAN gaming event in a major arena) the useful unobstructed range at 11Mbps transmission rate could be about 300 meters. For wired communications, the Asus K8V-DLX/WiFiB has an onboard 3Com Marvell Gigabit NIC which works to transmit data at upto 1000mbps. That network adapter should easily satisfy all your high bandwidth/performance needs during a fever pitched LAN game event. :-)
Asus Extra's You Can Count On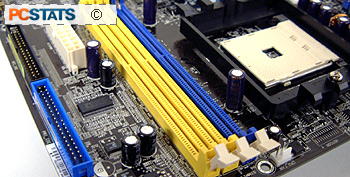 Asus not only include a lot of extra hardware with the K8V-DLX/WiFiB motherboard, they also include a ton of support features that are built right in. First off is Asus's CPR (CPU Parameter Recall) function. Basically, should you overclock your system too high and get no POST, all you have to do is turn your system off and turn it back on and your BIOS will rest to default. During testing this feature worked flawlessly and saved us a lot of time. Not once did CPR reset our settings when it wasn't required.
Asus Ai BIOS actually incorporates three different features, the first is Asus Q-Fan Technology. Q-Fan adjusts the CPU fan speed according to how much load the system is under and by how hot the processor is running. In today's world of high speed, high heat, high noise CPU coolers; Q-Fan can make a system noticeably quieter.
While in theory this is a great application, Q-Fan didn't work out very well. It seemed to sped up and slow down the CPU fan so much that we could often hear two tones from the main HSF which was rather annoying. The Asus POST reporter will speak to you via the system speaker or speakers connected to the PC when POSTs. If something is wrong you'll hear about it instead of having to try and figure things out on your own. Lastly Asus' CrashFree BIOS 2 is a BIOS savior which restores the original BIOS data fro the Asus support CD when the BIOS has been corrupted. This is always handy!