A pair of vertical pockets on either side of the Smart Alec are accessible with one-hand-behind-the-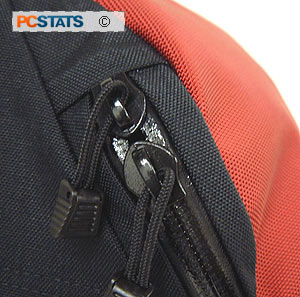 back convenience, and are the perfect size for storing a CD-player, a 1L drink, or a couple bundles of CAT-5 cable... You know, because we all like to carry around Ethernet cable "just in case."
There are no other external pockets, and the clean design of the Smart Alec also lends itself to a refreshing lack of snaps, adjustable clips or any of the typical backpack flutter.
The shoulder straps are 1/4" thick pads, and are what I'm assuming to be neoprene by the feel of it. The underside of each shoulder strap is protected with a breathable high-friction fabric, and apart from a few adjustment straps on the outside, are equally plain as the rest of the bag.
Getting the sternum straps adjusted properly will make a big difference if the Smart Alec feels a little odd at first...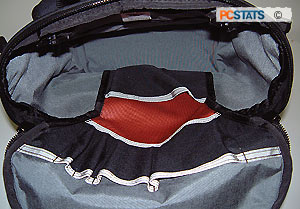 Five pockets on the inside of the Smart Alec; two for pens, two for cellphone/PDA, and one about right for a CD-player.

The strap adjusts to the breadth of you chest, and up or down 6" vertically as well. The vertical adjustment should make certain the bag fits comfortably on women.

If you don't intend on using the tiny waste strap it can be remove altogether, or simply clipped out of the way which is what we ended up doing.

Most of us tend to carry way too much stuff around, and that can make carrying a knapsack by the handle very uncomfortable for extended periods of time. Tom Bihn have added a 1/2" tube to the inside of the strap in an effort to provide a more comfortable grip.

It works well and makes lugging a heavy load through rush hour on mass-transit all that much easier.

On the inside of the 24 liter Smart Alec are an assortment of small pockets; good perhaps for a cellphone, PDA, CD-player, and a couple pens. There really isn't all that much pocket space provided for internally, but it should be adequate for the basics.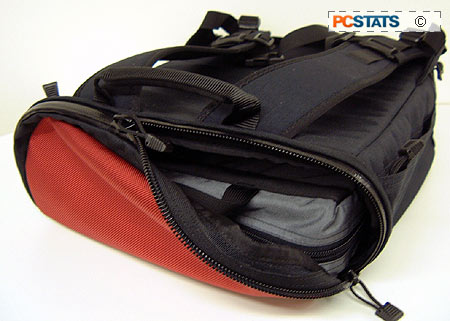 The final feature of the Tom Bihn Smart Alec are a pair of clips on back of the bag inside just below the handle. They are there to hold the Monolith accessory bag in place, and that is what we'll talk about next.