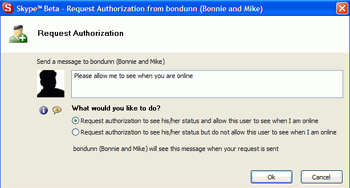 For a first test, we set up a couple of computers across the room from each other, hooked them up to separate DSL Internet connections and installed Skype on both. After creating a couple of users, we searched for one of the accounts and requested an 'authorization' which would allow us to see when they are online.
We promptly authorized both accounts to each other and proceeded to call and chat... The whole setup process took less than five minutes from start to finish.
So far so good, but how does the call quality sound?
It's a mixed bag. While the voices were clear and crisp through our headsets with Skype, things get muddy very quickly when two people try to talk at once. Generally you just cut in louder than the person on the other end of the line, and we heard static and various strange clipping effects once we started singing duets (not really surprising, it happens to me in karaoke too).
Still, once we figured out that talking in unison doesn't really work, the experience was positive. Move your calls out of the same room, to say a continent or so away and it's darn good. For long distance calls that cost nothing per minute, it seems even better. ;-)
Next we tested out Skype's echo service, a username ('echo123') that they have set up to allow users to test the sound quality of their connection. It records a ten-second snippet of your voice and plays it back to you. No problems here, sound was clear and crisp, so the issues seem to be only when parties try to talk over each other.
After this, we started in with some International calls. First to San Francisco, then London, England. Then finally Belgium. The sound was actually much better on all of these calls. So much better in fact, that I'd say it was perfect, except for the aforementioned distortions when both parties try to talk at once. Very impressive.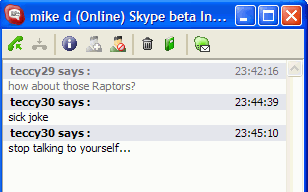 Skype also offers an instant messaging feature which works in unison with the VoIP aspect of the program. Right click a contact or the icon of the person you are talking to and select 'send an instant message' to open the instant messaging screen.
By default, the Skype instant messages are fully encrypted and are logged on your computer, accessible from a button on the toolbar. As a nice touch, all messages you have recently exchanged with a particular contact stay visible in the instant messaging window for that contact, even if you close it and reopen it later.
Unfortunately, there is no 'message waiting' ability as seen in ICQ. Messages sent to an offline user will not be received by them when they log on. Unsurprising given the P2P structure of Skype.
Overall, we found the instant messaging feature of Skype effective and easy to use, with one large and rather annoying exception: it is difficult to actually notice when one of your contacts has instant messaged you. The options menu includes four notification options for this purpose. Three of these are enabled by default, but only two seem to work, and of these two, only one is useful and predictably, it's the one that's off by default.
Apparently Skype is supposed to play a sound and flash the icon of the contact that is messaging you. It did neither on our two test systems. It does open a chat window, but very stealthily. Without the flashing that accompanies other minimized instant messaging programs like MSN Messenger, it's hard to notice the new window at all. The useful, disabled-by-default option gives you a text bubble each time your contact messages you, which works well.
Leaping to Early Conclusions
As it stands, it's hard not to like Skype. It works, and works well even in beta, and as a result of its current beta status it's also ad and spyware free. More importantly, it's easy to use. While we were in process of a call with Skype, we generally saw CPU usage around 20-25% - not too bad. This should mean that Skype will be a viable tool for gamers to communicate by voice while playing their favourite online games.
Anyone who has a casual acquaintance with any instant messaging client will feel right at home making VoIP phone calls with Skype. Obviously a headset is required to get anything out of the program, but this is a fairly trivial investment. The Skype software has a few rough edges, which we detailed, but is admirably economical with system resources. Give it a try, and say "hi" to those long-distance relatives!
Find out about this and many other reviews by joining the Weekly PCstats.com Newsletter today!