Samsung have maintained a very concise OSD menu system for the last few years we've been checking out their displays, and the Syncmaster 192MP continues on here were. Navigation with the circular paddle by the power button the front bezel is straightforward, even for the most novice of user.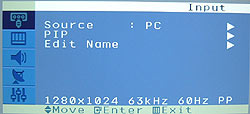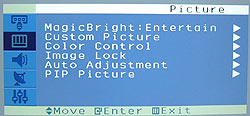 Input controls and picture settings here.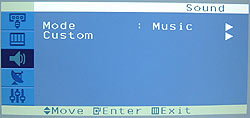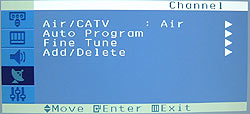 Sound options allow you to customize by music, movie, or custom bass and treble settings. If cable TV is hooked up, you can adjust most settings a standard Television has.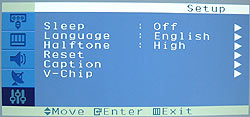 Magic bright is another little tool Samsung have added, which adjusts the brightness of the display for specific purposes, like; Internet, Text or Entertainment. The user and entertainment settings are brightest making it ideal for watching a movie.
As with all LCD's capable of analog-input, the best way to configure the screen is use the "Auto Adjust" key and just sit back while the screen configures itself.