LCD Display Test
Test Observations
Brightness and Contrast:

Very nice shading under the gray scale test. The percentage white scale bars were clear and desaturated. It was difficult to see a perceptible change between 1% and 2% white.

Colour:

The white, red, green and blue test screens were very bright and vibrant over the entire screen area. There were no dull or broken pixels on the display we tested, which is what you want

Convergence:

The grid test patterns in RGB illustrate the worst case situations when different coloured pixels must work closely together, and since they comprise different parts of a pixel they do not line up exactly on LCD screens where there is less blending. Since the pixels on the 192MP are 0.294mm in size, the effect is a little more noticeable than a standard 17" display which uses a 0.264mm pixel dot pitch.

Focus:

This test has a few patterns of alternating black and white boxes with text in them. In the center of the page are two boxes with 1 pixel vertical stripes. All test patterns showed up perfectly.

Resolution:

Resolution was excellent at the native 1280x1024 size. Image dithering at a non-native 1024x768 was good; lines were obviously fuzzy, but text was still very legible.

Moire:

Since we tested with the analog signal there was some background waves in a few of the more challenging test patterns here. They were very subtle and would be difficult to notice unless you looked for them I think.

Other Evaluation Notes:

Not a dead pixel to be found on the monitor we were sent to test - a good sign of quality which we've come to expect from Samsung. For everyday work an LCD display such as the 192MP would provide a comfortable and vibrant visual platform.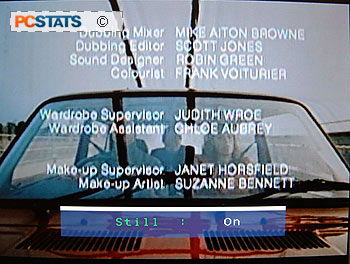 Before the obvious questions about ghosting and "is this a gamers monitor" come up, it's worthwhile remembering that the Samsung 192MP has a 25ms pixel response time...
If you're looking for a display which can handle the highest framerates and fragging action possible - get a CRT monitor. LCD displays have achieved many advances in monitor technology, but they still can't match the speed with which a CRT can draw an image without some perceptible choppiness, ghosting, etc. That said, I didn't see any problems along those lines with the 192MP, but you may very well, especially if you burn the midnight oil playing a lot of FPS games.
As a television, the Samsung 192MP works well, though the TV-LCD picture is something most people need time becoming accustomed to. Because of the image interpolation from television resolutions to 1280x1024, it is best viewed form a few feet away.
Brightness and colour saturation on 192MP is quite nice, especially considering it is rated for a luminance of 250cdm/2. Couple that with a very high, 750:1 contrast ratio, and you have an 1-3/4" thick LCD screen which stands out, and stands out sharply. Blacks are truly black, and bright colours are quite vibrant.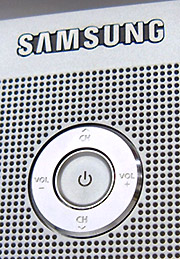 The Samsung Syncmaster 192MP is priced at just over $820USD. making it a serious investment for anyone looking for a 19" LCD screen. I would easily consider this monitor for home, or work use, as the mulitmedia capabilities are useful to me. If you don't need an integrated TV-tuner, speakers and an assortment of component inputs for watching DVD's with, then why are you reading this review? There are stripped down LCD screens that are less expensive out there, though I doubt they'll look as nice as this sliver unit.
With appealing visual style, easy of use and configuration, and a gorgeous screen for working on, the Samsung 192MP certainly has a lot going for it. Ghosting has never really bothered me, but there are obviously better-suited screens (which have recently been released) on the 16ms and 12ms pixel response time front that I'd direct anyone who is looking to do serious gaming on, check out.
For the rest of you, chuck out that old 20" TV, hook up the DVD player, computer and get down to business with the Samsung 192MP!
Find out about this and many other reviews by joining the Weekly PCstats.com Newsletter today!