Unreal Tournament 2003

Source: Epic
Unreal Tournament 2003 is the sequel to 1999's multiple 'Game of the Year' award winner. It uses the very latest Unreal Engine technology - where graphics, sound and game play are taken beyond the bleeding edge. Unreal Tournament 2003 employs the use of Vertex as well as Pixel Shaders and it's recommended that you use a DirectX 8 videocard to get the most out of the game.
UT2003 - 640x480
Flyby
FPS
Ranking
Asus K8V Deluxe
286.72

Gigabyte K8NNXP

292.44
Gigabyte K8NSNXP
294.15

MSI K8N Neo-FIS2R (9800XT)

296.32

MSI K8N Neo-FIS2R (5950 Ultra)

302.71

MSI K8N Neo-FIS2R (9800XT, 223/446)
308.61
Botmatch
FPS
Ranking
Asus K8V Deluxe
91.03

Gigabyte K8NNXP

93.53
Gigabyte K8NSNXP
94.07

MSI K8N Neo-FIS2R (9800XT)

94.49

MSI K8N Neo-FIS2R (5950 Ultra)

94.11

MSI K8N Neo-FIS2R (9800XT, 223/446)
98.28
UT2003 confirms what the other 3D benchmarks suggest, nVIDIA motherboards perform best with nVIDIA videocards. Of course performance with ATi videocards is still very good.
It was a smart move for AMD to integrate the memory controller onto the processor, that guarantees that even low end Athlon64 systems meet a certain level of performance. Of course with that done, it's a lot more difficult for manufacturers to differentiate themselves.
People gave nVIDIA a hard time when the first nForce3-150 was released, and rightly so. Compared to the competition, the NF3-150 was outdated. It had no native Serial ATA/RAID, no Gigabit ethernet and let's not forget about the slow HyperTransport subsystem.
Seems like nVIDIA took all those complaints to heart because the nForce3-250Gb includes everything we'd ever want and more; Serial ATA and IDE RAID, an onboard Gigabit NIC that has its own dedicated bus, AGP/PCI locking and a 1 GHz HyperTransport link! It's all quiet on the critic front. ;-)
The MSI K8N Neo-FIS2R Platinum is an excellent board to work with and is fully loaded too. The layout of the board is great and really the only thing that irks me about the board is the placement of Serial ATA slots one and two. The NF3-250Gb now has the fastest HyperTransport links of all the competition, nVIDIA's solution runs at 1 GHz and is 16 bits wide both up and downstream. In theory that means that the NF3-250 should be able to get data to and from the processor and the various other devices quicker than the competition. While that's great, in reality it really does not do much for desktop applications yet.
In the end, the performance of the MSI K8N Neo-FIS2R Platinum motherboard was excellent. It's easily the fastest Athlon64 board we've tested to date. The benchmarks improved even further when we used a nVIDIA based videocard, but even when with a Radeon 9800XT, performance remains very nice indeed. The board is not in the retail channels just yet so we're not sure how much it costs, but MSI usually price their products aggressively.
If you're an AMD Athlon64 user, make sure you check out the MSI K8N Neo-FIS2R Platinum motherboard! It's based on the nForce3-250Gb chipset, and it is fast and full of the features you need!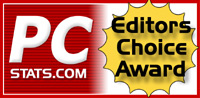 Find out about this and many other reviews by joining the Weekly PCstats.com Newsletter today!
Related Articles
Here are a few other articles that you might enjoy as well...