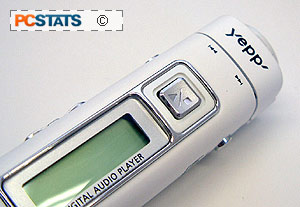 Samsung's Yepp YP-55i is a 192MB fixed memory portable MP3 player which offers 15hrs playback, and MP3 encoding at up to 128kbps for FM radio or connected audio on the fly. All this for a sticker price of about $200CDN. The small white player has a clever set of track controls, and a nice electroluminescent back lit LCD display which is easy to read.
Relying on one AAA battery, the Samsung Yepp YP-55i bridges together the worlds of USB media drives and MP3 players to produce a portable storage device which is easy to get your music into, or off of. None of this "you can only upload MP3 files" stuff - with the YP-55i. MP3/WMA formats can uploaded and downloaded from the flash memory.
The YP-55i handles both MP3 and WMA music formats, and since MP3s are the favourite, they can be played back at encoding levels of anywhere from 8-360kbps. Voice recordings are stored in WMA format, and in our tests were somewhat muffled. A good dedicated digital voice recorder would produce better results, but the voice recording feature is acceptable for the limited use likely to be seen here.
As with most digital FM tuners, background static is sometimes prevalent, as it was for a couple stations we listened to. The FM radio automatically shifts between stereo or mono, depending on the signal strength, but overall I'd have to give it 4/5 for fidelity. The auto scanning, and 20 station presets make jumping from station to station a quick task.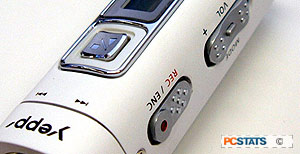 Of all the YP-55i's features though, its ability to encode FM radio broadcasts on the fly into MP3 files with the flick of a button, was what most impressed us. Samsung have certainly equipped the YP-55i with a cool feature there, and if your friends CD-player is where the good music really is, the ENC connection on the YP-55i will enable you to record directly from an adjacent device, in stereo.
As an MP3 player, the Yepp YP-55i offers great sound, and a ton of extra functionality on top of that. The unit is solidly built around an aluminum chassis, and with 192MB storage, makes for one very cool little device.
Find out about this and many other reviews by joining the Weekly PCstats.com Newsletter today!
Related Reviews
MSI MegaStick1 MP3 Player
Archos MP3 Jukebox Recorder Review