Included on the Samsung installation CD, along with MagicTune and Natural Color, is a program called PivotPro. Users who install PivotPro software onto their PC will be able to take full advantage of the Samsung 173P's most novel feature - the ability for the entire LCD screen to rotate 180 degrees to the right.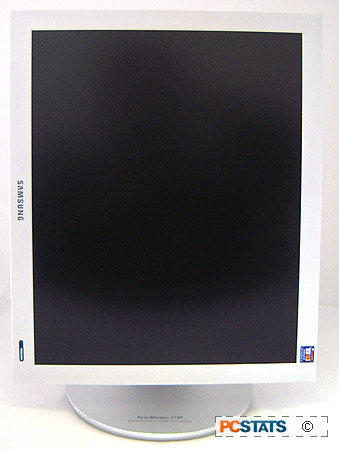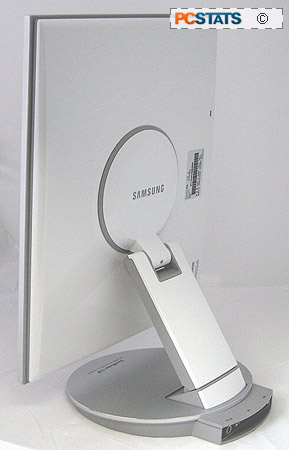 The key figure of importance arrives when we rotate the LCD screen just 90 degrees, transforming the traditional landscape setting into portrait mode.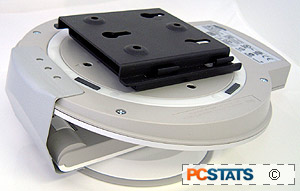 The 75mm VESA wall mount kit comes included with the 173P display. It attaches to 75mm VESA mount points on the base of the monitor, and a small metal bracket keeps the adjustable arm in the locked down position while attached to the wall. The 173P screen can still rotate around 180 degrees, but it is not designed to swing out horizontally.
With the LCD screen oriented in this fashion, it works much better for users who are predominantly working on text documents, or surfing the web. Full pages of text display better since the screen is better formatted to the portrait layout of a standard 8.5" x 11" sheet of paper.
Chameleons are often noted for their ability to cling to flat surfaces and blend in. While the Samsung 173P will not shift its colour to match surroundings (except perhaps a nice white wall), it will cling to a flat surface with relative ease.
To do this, the Samsung 173P comes with 75mm VESA mounting points on the base of the display. Users with a 75mm VESA compatible monitor stand, or wall bracket, can easily attach the 173P directly to that. If not, Samsung have also included a heavy metal 75mm VESA wall mount plate of their own, along with all the screws, hardware, and instructions you will need to attach it firmly in place.
I'd highly recommend you try an screw into a wall-stud, or post, but if drywall is all that is available to your, the necessary wall plugs should hold things steadfastly.