We've already examined many of the 173P's features which make it a compelling 17" display to consider, but now we'll show you a little more about what this classy display looks like from the outside, before moving to the screen evaluations.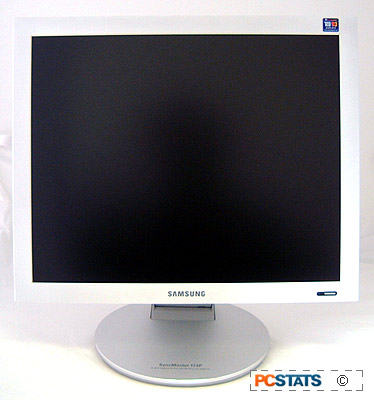 The front of the 17" Samsung 173P LCD display. Note the clean lines of the front aluminum bezel, single power button, and scarcely anything else to distract the eye while using this monitor. The LCD panel itself is a little over 20mm thick, and is covered in the back by glossy white plastic... reminds me of something from the movie, 2010: A Space Odyssey. ;-)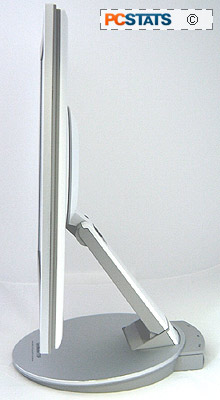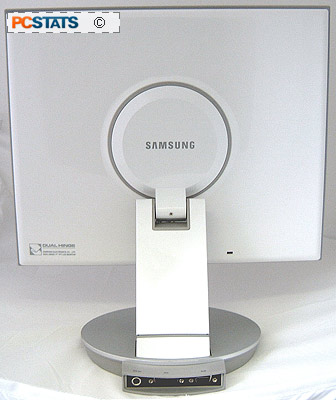 The side and rear of the 173P display. The LCD panel adjusts up and down about 7cm, care of the two joints in the support arm. With the screen brought all the way down, it completely obscures the base. The LCD panel tilts forward a little under 5 degrees, and backwards a little over 120 degrees. The base has enough weight to it that when adjusting the screen in any direction, it doesn't lift up or slide all over the place. At the rear of the panel is the small rectangular hold for a Kensington lock. If you are concerned about theft, the 173P can be secured as you would any laptop.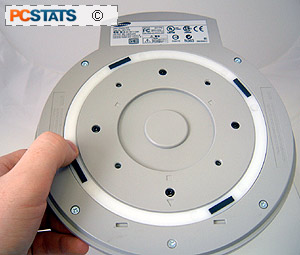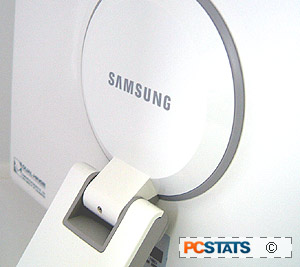 The stand has a swivel built into it (the white bit), which makes adjusting the 173P to the left or right quick. The second swivel is built into the rear of the LCD panel itself, just behind the Samsung logo in the picture at right. This panel swivel allows you to rotate the screen 180 degrees to the right, and is for adjusting between portrait and landscape configurations. The LCD panel and stand are one piece, and cannot be separated.