Abstract: Looking at the Samsung 173P, whites are bright and vibrant, and blacks almost seem to absorb every photon of light that passes by...
88% Rating:
Home > Reviews > Monitors > Samsung 173P
Evaluating the 173P Display

PCStats LCD Display Evaluation Criteria

PCstats evaluates the screen characteristics of LCD monitors with the help of a program called Monitor Test. This software application displays a range of primary colours and special monitor test patterns which enable an observer to diagnose just about any visual problem, or defect an LCD display may be hiding.

The software consists of about eleven tests which can be run in steps, as adjustments are made through the OSD to optimize the monitor. Though some tests are primarily intended for CRT monitors, Monitor Test is still a good tool for evaluating common visual problems which can indicate of the quality of LCD panel used, and its limitations.

Two critical items not covered by Monitor Test are broken LCD pixels, and pixel response times, which if too slow, can cause blurring or ghosting of fast moving objects on the screen.

Broken Pixels: What we class as a 'broken pixel' can fall under any one of the following circumstances: pixels that are always on (any colour), pixels that are always off, pixels which are unable to display a primary colour or shade (red, green, blue), or pixels which only display white or black. While many manufacturers may consider a few broken pixels acceptable, we believe the high cost of LCD displays should translate into a clear and unblemished image that does not include a single conspicuous broken pixel.

Pixel Response Time: Pixel Response Times are measured in milliseconds, and account for the rise and fall state, or the total time it takes for a pixel to respond, and return back to its original state. We look for any streaking associated with moving a full page of text up and down very quickly. Displays with slow pixel response times tend to show some degree of image streaking, or text discoloration in this simple but effective test. Response times can also cause ghosting in games where there are many fast moving objects. A response time of 25ms or less is generally considered desirable.

All of our test parameters are user reproducible, so you can try them yourself when evaluating displays. :)


Test Specs:

Videocard:
Radeon 8500
Operating System:
Windows 2000

Display Settings:
Colour Temp:
6500 Kelvin
Interface: Analog/DVI
Resolution: 1280x1024
Frequency:
60Hz
Colour:
32 bit

LCD Display Tests
Observations
Brightness and Contrast:

The Samsung 173P display exhibits very nice shading under the gray scale test. The white scale bars were clear and contrasted to the black test background. It was difficult to see a perceptible change between 1% and 2% white test bars. Overall, the 173P's 700:1 contrast ratio translates into jet-black backgrounds, and brilliant white text, which is great to see.


Colour Vibrancy:

Colour vibrancy was very good for the most part on the 173P, though on the white test screen brightness uniformity was visibly best at the center of the screen. The red, green and blue test screens were very bright and the colour saturation was excellent. There were no dull or broken pixels visible.


Colour Shading:

By displaying a primary colour transition from solid colour to black, it is possible to see one how well the LCD panel handles colour shading. Limited to 16.7million colours, LCD screens often suffer banding to some degree, where the slight transition from one shade to another leads to a visible 'steped' appearance. The Samsung 173P fairs well here for the most part, expect for two areas in the test screen where the transition from blue to darker blue is more abrupt than elsewhere.


Convergence:

The grid test patterns in RGB illustrate the worst case situations when different coloured pixels must work closely together, and since they comprise different parts of a pixel they do not line up exactly on LCD screens where there is less blending. Since the pixels on the 173P are 0.264mm in size, the effect not very noticeable.


Resolution:
(native and non-native)

Resolution is excellent at the native 1280x1024 size. Image dithering at a non-native 1024x768 was better than expected. By the look of the test pattern, the 173P is applying an algorithm to sharpen the dithered images. Bottom line, if you prefer larger fonts, or need to run at a non-native resolution, the 173P should handle text gracefully. Also, when the monitor is switched between resolutions, the "auto adjust" function automatically kicks in optimize the display.


Moire:

When testing the Samsung 173P display on the analog cable, there was no visible background noise in any of the moire tests.


Broken pixels, response times and other evaluation notes:

The 173P we tested did not have a single broken pixel on it - a measure of LCD panel quality we have come to expect when testing Samsung displays. Samsung cite a 25ms pixel response time, and in our tests (at 60Hz) rapidly moving text up and down, no streaking was visible.

While 60Hz screens can become somewhat 'choppy' during fast-paced gaming, it is worth noting that the Samsung 173P supports refresh frequencies of up to 160Hz, which translates much better when objects are bouncing around all over the place. However, at 60Hz - 160Hz, some ghosting is visible from the rapidly moving text test. The effect is not very severe, and less noticeable at the higher refresh rate. Again, the 173P lists a 25ms pixel response time, so game accordingly if you are hyper-sensitive to this aspect of LCD screens. Movie playback was just fine on the 173P, and no visual artifacts (ghosting, blurring, streaking) were noticeable.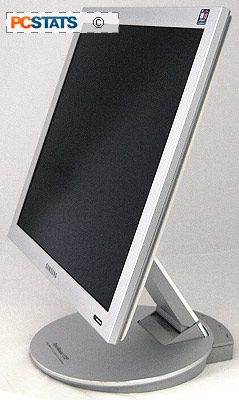 Final Words
With a sticker price of approximately $600 USD, the Samsung 173P 17" monitor is certainly priced toward the upper-end of the 17" LCD market. Yet, compared to average 17" screens, the 173P offers ultra-wide 178 degree viewing angles, an industry leading 700:1 contrast ratio, and a brightness figure of 270cd/m2.
Its pixel pitch of 0.264mm is standard, as is its resolution of 1280x1024. Likewise, the pixel response time of 25ms is good, but nothing to get excited about as a few 16ms-cable LCD monitors have already hit the market. What makes the 173P stand out, apart from its screen, is its great design.
The glossy white plastic makes this monitor an ideal option for someone looking to replace an iMac monitor, or add one to their new Mac or PC. With high design sensibilities, the 173P monitor will not disappoint, and neither will its screen characteristics. The display can handle refresh rates of up to 160Hz, which make it really easy on the eyes, and keeps it looking like a million bucks under incandescent or florescent lighting.
The lack of OSD buttons on the front bezel is easily forgotten if the 173P is used with the DVI video cable. However, if you use an analog cable to hook up this LCD screen to your PC, be prepared to install the MagicTune software in order to configure any of the display properties like brightness or contrast.
Users who spend a lot of time gaming, and are hyper-sensitive how things look at 400FPS, will undoubtedly be best served by sticking with a CRT monitor. For those of you who aren't as anal about an LCD display with 25ms pixel refresh times, I think you'll find the 173P's other screen qualities lend themselves to a nice vibrant picture. Office work is a given, and I think Samsung 173P will keep any user more than happy for quite some time as they fiddle around on their PC, or even sit back and watch a DVD.
Find out about this and many other reviews by joining the Weekly PCstats.com Newsletter today!
SEARCH PCSTATS

---

Use the power of Google to search all of PCSTATS and the PCSTATS Forums. Tell us what you think of this new feature - FEEDBACK?