Now that the Socket 775 Intel Pentium 4 processor is upon us, a whole host of new peripherals are emerging onto the market to compliment the new technologies ushered forth. From DDR2 RAM to PCI Express videocards, and even new cooling solutions, it's a very exciting time to be an Intel fan!
The 925X is the higher end chipset for this CPU, but don't let the Albatron Mars PX915G Pro fool you. Based on the Intel i915G chipset, it's an extremely fast and very capable motherboard. In just about all the benchmarks the Albatron PX915G Pro was able to keep up with the high end i925X based Gigabyte GA-8ANXP-D! Very good considering Albatron's PX915G Pro retails for about half the price at $160 CDN ($125 US)!
In terms of onboard features, the Albatron's PX915G Pro comes with a nice assortment as already detailed. It has two PCI Express x1, a PCI Express x16 and three standard 32bit PCI slots for expansion, so it sits nicely between legacy and newly released device requirements. With its integrated Intel Graphics Media Accelerator 900, one need not even use the PCI Express x16 slot for a videocard... though if you have any hopes of running Doom3 at decent rates, its best to buy a PCI Express videocard right from the get-go. Integrated graphics will be excellent for office applications, but not prolonged gaming.
All in all, as the benchmarks have illustrated, Albatron have really created an nice mainstream i915G motherboard here. And just because the Albatron Mars PX915G Pro has onboard video doesn't mean it can't handle a little overclocking too. Its voltage options are broad, and the PX915G Pro overclocked like there is no tomorrow! We were able to push a retail Pentium 4 540 from 3.2 GHz to 3.9 GHz while maintaining 100% stability! Impressive, and that most definitely earns the Albatron Mars PX915G Pro a nice shiny Editor's Choice Award from PCstats.com.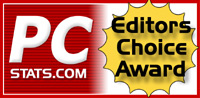 Find out about this and many other reviews by joining the Weekly PCstats.com Newsletter today!
Related Articles
Here are a few other articles that you might enjoy as well...
1. Epox 8KDA3+ nForce3 250Gb Motherboard Review
2. Asus P4R800-V Deluxe Motherboard Review