The 915G and ICH6 up close!
The Intel 915G northbridge is next in the line in chipsets following the i865. The i915G is targeted towards the everyday user, and like the more expensive 925X flavour, can run with a socket 775 Pentium 4 processor running at 800 MHz or 533 MHz FSB.
Where the 925X and 915G separate in terms of features is 915G's capability to support both DDR2 and regular DDR memory (not at the same time), making it a much easier upgrade path for users. Several i915 boards are available with both DDR2 and DDR memory slots, but it is important to remember, that both types of memory cannot be used at the same time, it's either or.
Between the memory controller and system memory is a 8.4GB/s DDR2 connection (6.4 GB/s for DDR memory) that is plenty fast for the most demanding applications. If you want the best 3D performance out of your systems, the 915G also comes equipped with a 16x PCI Express slot.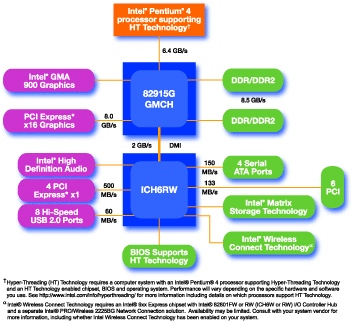 For anyone who wants a powerful computer without the added expense of purchasing a videocard, you should find the integrated video built into the Albatron PX915G Pro a nice feature. The Intel Graphics Media Accelerator 900 is good for a little gaming action, but is primarily intended for office or standard 2D programs. At the very least, the GMA 900 will get you on the right track, and if it proves too slow for 3D applications, a PCI Express videocard can always be installed at a later time.
Intel's GMA 900 is integrated into the i915G northbridge, and it supports HDTV displays as well as dual monitors! For gamers on a budget, the GMA 900 is not as bad as it might first seem. It is DirectX 9 compatible, and should be able to run all the games on the market... though not necessarily very quickly.
The Intel ICH6 Southbridge:
We all agree that the Intel ICH5 southbridge was a huge improvement over ICH4, and now ICH6 adds a little more into the mix. First off, ICH6 natively supports four Serial ATA ports, up from two found with the ICH5. However as a trade off, the ICH6 has but one IDE channel. That's it! I guess we just have to say good bye to all your IDE hard drives... For expansion needs, ICH6 will support up to four PCI Express x1 slots, or six regular PCI slots.
With IDE quickly going the way of Disco, Serial ATA devices are where it's at. Being that IDE RAID was a very popular selling point of many motherboards, it would be a tragedy if consumers were shuffled back to the days before RAID with SATA. This isn't the case, thankfully. The Intel ICH6R variant supports RAID, which Intel terms its "Storage Matrix Technology." Intel's has always been clever with catchy names. The RAID feature is only found in ICH6R southbridges, and it supports RAID modes 0, 1 and 0+1.
The Albatron PX915G Pro is equipped with the vanilla ICH6 Southbridge, so no RAID options here I'm afraid.
Overclocking the PX915G Pro!
There's a rumor going around the web that Intel has started to place limits on how high one can push the FSB of its processors. You won't have to worry about that when overclocking this Albatron motherboard, and we'll show you why in a second. Using a retail 'D0' stepping Socket 775 Prescott 540 (3.2 GHz) CPU, we began this overclocking adventure not knowing what at all to expect from the processor or motherboard.
Starting at 200 MHz, we raised the FSB of the motherboard to the 216 MHz FSB mark without problem. If you remember when we reviewed this CPU, both the Gigabyte i925X and i915P-based motherboards topped out at 216 MHz..... At 221 MHz FSB we had to raise the voltage being supplied to the DDR memory to 2.8V, and CPU voltage to 1.42V to stabilize the overclock. Continuing on to 230 MHz, we had to lower the memory frequency by enabling the 6:5 memory divider on the Albatron PX915G Pro.
After that was done it was smooth sailing to an amazing 244 MHz FSB! Anything higher caused 3D applications to crash, but Super Pi would test all the way to 252 MHz FSB. A pretty amazing overclock considering the 3.2GHz Pentium 540 was being cooled by the Gigabyte 3D-Cooler Ultra. Up next, a look around the BIOS, and the benchmarks you've been waiting for!
SEARCH PCSTATS

---

Use the power of Google to search all of PCSTATS and the PCSTATS Forums. Tell us what you think of this new feature - FEEDBACK?