When we talk about the Gigabyte GA-8ANXP-D, it is the features that really make this motherboard such a lucrative deal. With eight SATA ports, SATA RAID, tons of USB2.0, Intel 7.1 channel 'High Definition Audio', Firewire, six DDR-2 memory DIMMS, PCI Express, a silent 8-phase power circuit, its own 802.11G wireless card and much, much more.... there's a lot to cover for $260USD. Despite all the built in hardware, the layout of the GA-8ANXP-D is excellent, and almost everything is placed in its ideal location!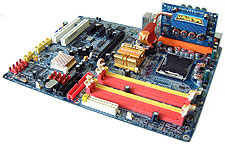 From the benchmarks we've just shown you, the performance of the Gigabyte GA-8ANXP-D is superb as far as the socket 775 Pentium 4 platform is considered. Although, the 915P Gigabyte GA-8GPNXP-D beat out the higher end GA-8ANXP-D in a few tests due to slightly higher clocks.
On the downside, the Gigabyte GA-8ANXP-D is not much of an overclockers motherboard. Our tests were limited to a maximum FSB of 216 MHz, which is disappointing. If Intel really has implemented a FSB lock, I hope the clever Gigabyte engineers figure a way to get around it.
Bottom line, if you're itching to get a new Socket 775 Pentium 4 processor and PCI Express x16 videocard together for some gaming action, the Gigabyte GA-8ANXP-D is an excellent choice. Its geared towards power, and maintains a nice low noise aesthetic we can all appreciate. This is truly a flagship motherboard, and one we're pretty impressed by, regardless of its few shortcomings.
Here are a few other articles that you might enjoy as well...